Home
E12
E24
E28
E30
E34
E36
Z3
E39
E46
X5/E53
ALL
Ron Stygar
Carl Buckland
Dale Beuning
Forums
Help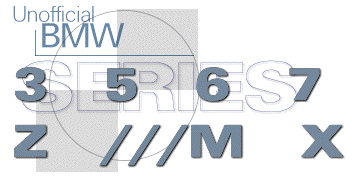 ---
Date: Sun, 9 Jan 2000 19:48:21 -0800
From: "Larry Simmons" <lsimmons_at_avantcom.com>
Subject: Uniden Beartracker Scanners

With a 3000 mile roadtrip coming up next week, I wanted to have the best "highway awareness" I could have so I ordered a Uniden mobile scanner. I have been amazed at how this unit "alerts" to the presence of highway patrol units....pretty slick!
It senses HP units by (and I quote from the owner's manual):
"Most highway patrol vehicles on the road today are equipped with a secondary radio system known as a 'mobile extender' or 'vehicular repeater.' Whenever the dispatcher transmits to any vehicle in the district, every 'mobile extender' in every car with in the district is activated."
"Using a constant PRIORITY check of the specific frequencies in each state the BCT7 recognizes and alerts you to transmissions from the 'mobile extender' radios as well as car-to-car, aircraft-to-car and other special purpose frequencies. You will receive an audible (beep tone) and visual (flash of warning light) alert whenever you are within an approximate three mile radius of many Highway Patrol/State Police units."
These scanners come in two flavors:
The BCT7 (which I purchased), includes a 12 volt converter for in home use, and has a base station form factor, though it comes with all the 'mobile' use fixins....
or the BCT12, which is targeted for the 'primarily' mobile audience...a radar detector like form factor and no 12 volt converter for home use (sure you could find a 3rd party one somewhere if you are so inclined).
The BCT12 looks like a more recent design and has a couple options the BCT7 does not (i.e. level strength meter...the alert is reset based on the strength rather than a fixed ~3 minute timer for the BCT7). The BCT7 transmissions also burp slightly every couple seconds while it checks the 'priority' channels for an 'alert' (just a little annoying). I didn't find any reference to this 'burping' in the BCT12 documentation.
What's really cool about these units is that you can turn the volume down on the radio transmissions and still get a 'radar detector' like alert when a 'bogie' is detected!
There are lots of features...too many to list here (like programming CB channel 19 into the HP scan group), but another really cool thing Uniden has done is supply the actual owner's manuals on their web site in PDF format:
http://www.uniden.com/docs/service/pdf/BCT7om.pdf http://www.uniden.com/docs/service/pdf/BCT12om.pdf
I purchased the BCT7 for $159 plus 12.95 shipping from:
http://www.radio-guys.com/scan.htm
The best price I found on the BCT12 was $157 plus shipping from:
http://www.clearlight.com/%7Ejcre/scanner.htm
I only have about 150 miles experience with this unit now (though I do know the HP comes through my small rural town about once every 6 hours during the 1st and 2nd watch<g>), so my results are preliminary. I'll have more detailed information to share at the end of month when I've finished the road trip in the iX.
YMMV
Larry Simmons
BMWCCA #54961
BMWMOA #38731
'91 iX (his) (2.9 litre MM stroker, Shrick 272, JimC) '90 iX (hers) (stock) <== gawd these are awesome in these No. Idaho winters! '91 M5 (mine!) (stock)
Unofficial Homepages: [Home] [E12] [E24] [E28] [E30] [E34] [E36] [Z3] [E39] [E46] [X5/E53] [ALL] [ Help ]