Home
E12
E24
E28
E30
E34
E36
Z3
E39
E46
X5/E53
ALL
Ron Stygar
Carl Buckland
Dale Beuning
Forums
Help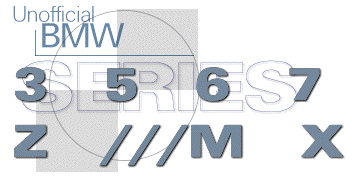 ---
---
From 318ti-compact-list_at_lists.geejeffery.com Sat Aug 30 05:01:06 1997
To: BMW 318ti/Compact List <318ti-compact-list_at_lists.geejeffery.com>
Subject: BMW 318ti/Compact List #152 - 08/30/97
Date: Sat, 30 Aug 97 08:00:01 -0400
List-Subscribe:
<mailto:requests_at_lists.geejeffery.com?subject=subscribe%20318ti-compact-list>

From: BenLiaw_at_aol.com
Date: Fri, 29 Aug 1997 21:53:33 -0400 (EDT)
Thanks to Mike Sitzenstock for find this...
BMW edges brand-new two-seater into high-performance market
As if the Z3 roadster hadn't already made a big enough splash in the sports-car market, German automaker BMW AG is gunning for an even bigger piece of the performance pie in early 2000 with an all-new flagship two-seater dubbed Z8.
Inspired by the classic BMW 507 roadster of the Fifties, the new Z8 (code name: E52) is being developed by the automaker's fabled M Division and is aimed at rival Mercedes-Benz AG's SL-series two-seaters as well as the Ferrari F355 Spyder. Anticipated retail price is around $120,000.
Spy photos of early prototypes suggest the car will have the same basic proportions as the smaller Z3 - long nose, short deck - with a folding canvas top (although Michigan-based ASC Corp. reportedly is working with BMW to develop a folding aluminum hardtop for the car). A distinguishing styling hallmark will be the vertical "gill" slits in the front fenders, a cue lifted directly from the 507.
BMW is looking at a variety of possible engines for the Z8, which will share chassis components with the all-new M5 sport sedan that's due out in Europe in 1998. Base engine will likely be the 286-horsepower 4.4-liter V-8, although a high-end edition could get the M5's 385-horsepower 4.8-liter V-8 and six-speed manual gearbox. The Z8 also will feature the latest electronic gadgetry, including a state-of-the-art traction/stability control system.
NOTE: I HAVE THE Z8 PICTURE POSTED ON MY LINK PAGE.
Ben Liaw
http://members.aol.com/benliaw
Unofficial Homepages: [Home] [E12] [E24] [E28] [E30] [E34] [E36] [Z3] [E39] [E46] [X5/E53] [ALL] [ Help ]