Home
E12
E24
E28
E30
E34
E36
Z3
E39
E46
X5/E53
ALL
Ron Stygar
Carl Buckland
Dale Beuning
Forums
Help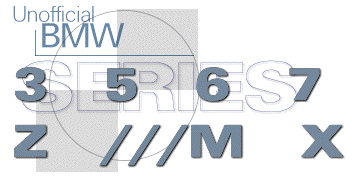 ---
---
From digest.v7.n441 Wed Oct 15 07:47:35 1997
From: Mpotheau_at_aol.com
Date: Wed, 15 Oct 1997 08:08:07 -0400 (EDT)
Subject: Vin # secrets

Ok, everyone, please pay attention:
Vin #s have a total of 17 digits since 1980. For BMW, the first three digits identify the manufacturer, make and type of vehicle. The fourth digit designates the car line. The fifth letter identifies the series. The sixth digit designates the body type. The seventh character identifies the engine. The eighth character designates the restraint system. The ninth character is the check digit. The tenth represents the model year. Eleventh digit identifies the assembly plant. The last six digits are sequential production numbers.
Back to the tenth one, a letter,
1987=H
1988=J
1989=K
1990=L
1991=M
1992=N
1993=P
1994=Q
1995=R
1996=S
1996=T
1997=V
1998= See if you can guess this one. No CTC T shirts awarded here.
Position one identifies the country of manufacture. 1=USA 2=Canada W=Germany L=Taiwan S=England.
The above information is from NADA (National Automobile Dealers Association). The publisher does not assume any liability for the accuracy of the information.
Usual disclaimers for me apply. Wheew, maybe a post that is flame resistant?
Pizzafest 98 lives- more than just a concept Circle Tire Co. (We don't sell tires)
Michel Potheau BMWCCA#0000002 BMW Club France #0000013 mpotheau_at_aol.com
Enjoy your BMW
Unofficial Homepages: [Home] [E12] [E24] [E28] [E30] [E34] [E36] [Z3] [E39] [E46] [X5/E53] [ALL] [ Help ]