Google Search

Search (Google!!)
Search Amazon.com
Home
E12
E24
E28
E30
E34
E36
Z3
E39
E46
X5/E53
ALL
Ron Stygar
Carl Buckland
Dale Beuning
Forums
Help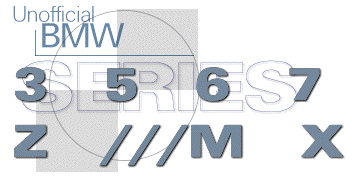 ---
---
From digest.v5.n39 Sun Jul 28 14:11:27 1996
From: M5JEFF_at_aol.com
Date: Sun, 28 Jul 1996 16:00:20 -0400
Subject: New Web Site for used BMWs.

Dear fellow digesters and enthusiasts,
My car habit has gotten so out of control that I have started a BMW only (well, mostly) used car dealership in Whiteland IN, just south of Indianapolis. I am specializing in M- cars, but will also carry anything else with a performance orientation. My web site is http://www.trader.com/users/5012/8969/ and the name of the business is "The Driver's Edge". This is going to be dedicated to the car enthusiast, and anyone visiting the Indianapolis area is welcome to drop in to visit, whether you are looking for a car, or just wanting to chat. Visit the site, tell me what you think, and email m5jeff_at_aol.com for input or more info! I can be reached at 317-535-0280, or 317-535-0250 as well. Wish me luck, I've kinda bet the farm on this one...
Current inventory:
77 Porsche 930 w/ 87 Turbo brakes $17,900 89 BMW 325i 5 spd 89k mi, PERFECT interior $10,900 88 M3 Convertible
91 E30 320i Touring
88 M3 red/black $15,000
Unofficial Homepages: [Home] [E12] [E24] [E28] [E30] [E34] [E36] [Z3] [E39] [E46] [X5/E53] [ALL] [ Help ]