Home
E12
E24
E28
E30
E34
E36
Z3
E39
E46
X5/E53
ALL
Ron Stygar
Carl Buckland
Dale Beuning
Forums
Help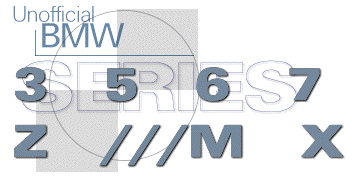 ---
---
From digest.v6.n505 Thu Apr 10 08:38:19 1997 From: "Timothy A. Roach" <timr_at_sum.com> Date: Wed, 9 Apr 1997 02:09:10 +0000
Subject: Re: E36 Paint chips/pin holes
Jimmy,
Here is where the US equivalent to Armorfend:
http://www.stongard.com/stongard.home.html
A list member named Daniel Chin has a '96 M3 (Boston Green/Modena Natur) who had the Stongard product on his car. If I remember correctly he was quite happy with the product. His email address is:
djchin_at_dsrna.agi.com
Hope this info is of some use to you Jimmy.

| Timothy A. Roach                              408/457-2262 |  
| Alden/Roach Consulting                  http://www.sum.com |  
| Santa Cruz, California        "An addend of the SUM Group" |

Unofficial Homepages: [Home] [E12] [E24] [E28] [E30] [E34] [E36] [Z3] [E39] [E46] [X5/E53] [ALL] [ Help ]