Google Search

Search (Google!!)
Search Amazon.com
Home
E12
E24
E28
E30
E34
E36
Z3
E39
E46
X5/E53
ALL
Ron Stygar
Carl Buckland
Dale Beuning
Forums
Help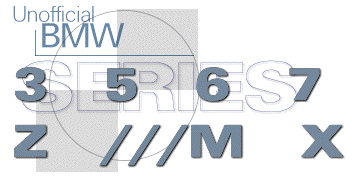 ---
---
From digest.v4.n740 Tue Jun 18 01:02:22 1996
From: coffin_at_ix.netcom.com (John Coffin)
Date: Mon, 17 Jun 1996 22:56:07 -0700
Subject: Re: BMW Rear Bearing questions

Taking the bearings off is straight forward with the use of a gear puller. Putting them back on is another story, I could not slide the hub back on the spindle like some said. I ended up ordering the factory tool to press the bearing back on. The tool is not cheap at $220 but I split the cost with my brother-in-law since he needed new bearings also. If this is the only car you are going to change the bearings I would have someone else do it since the price of the tool is the labor involved. By the way this tool only fits E30 BMWs I needed a separate tool for my E28 bearings. The E28 tool fits late model 3 series through. I'm hoping for late model 3 if my '84 318 ever dies.
Cheers
John
> Recently, I purchased a '85 318i BMW. It drives great, engine
>runs really well, and is overall, allot of fun to drive. Recently,
>there has been a bit of a "grinding/whirling" noise that appears the
>be coming from the right wheel. It sounds like the bearings have
>gone sour. I found out that the bearing come in a "hub" assembly (which
>I got for about $100.00). Is there any special tricks I need to know.
>For example, I started to pull off the tire and attempt to replace the
>hub assembly, then I decided to get some advice from a mechanic. He
>tells me that, once the main nut comes off, its destroyed, and a new
>one has to be put on (Thank god I didn't go very far into this venture!).
>As well, My Chilton manual tells me very little about the 318's and
>replacement of this bearing/hub assembly. I want to find a better manual
>on this car.
---
John Coffin
Senior Engineer
coffin_at_ix.netcom.com
---
Unofficial Homepages: [Home] [E12] [E24] [E28] [E30] [E34] [E36] [Z3] [E39] [E46] [X5/E53] [ALL] [ Help ]