Google Search

Search (Google!!)
Search Amazon.com
Home
E12
E24
E28
E30
E34
E36
Z3
E39
E46
X5/E53
ALL
Ron Stygar
Carl Buckland
Dale Beuning
Forums
Help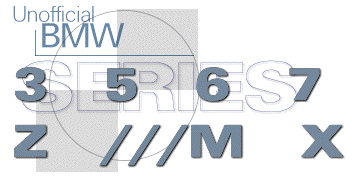 ---
---
From digest.v9.n4 Wed Jul 29 17:47:18 1998
From: Paul Drawmer <drawmer_at_nospam.demon.co.uk>

Date: Wed, 29 Jul 1998 23:09:23 +0100
Subject: <E3,9,12,21,23,24,Z1, etc> Classic parts CD Rom available


I found this today.
The CD-ROM parts catalogue for BMW
classic models is available through BMW dealers by quoting order number
72 00 0 035 315.
Countless enthusiasts around the world spend a great deal of time, money and effort on restoring and preserving classic BMW cars and motorcycles. One of BMW Mobile Tradition's core tasks is therefore to guarantee the supply of spare parts with the aim of securing and expanding the stock of classic models by steadily increasing the range of parts available. A host of activities in this area have already brought about substantial results in a relatively short space of time. Old stock has been secured through repurchasing, while especially rare objects have been faithfully reproduced in elaborate remanufacturing procedures. After just three years, these parts now comprise a range of more than 14,000 items. The acquisition, production and storage of parts presents a major challenge which could not be met without an effektive logistical system. Each classic spare part has therefore been given its own list number and printed catalogues have been published to enable all BMW dealers to provide information on the availability and price of parts and to handle orders.
A CD-ROM parts catalogue for the current model range is already available. lt was thus only logical to use the same medium for cataloguing classic parts as well.
BMW Mobile Tradition is now able to offer BMW dealerships and interested customers a clearly structured catalogue of historic parts on CD-ROM, modelled on the existing catalogue of current BMW parts and components. The CD-ROM is compatible with current DOS, Windows and UNIX systems and lists some 60,000 parts with illustrations. The main focus is naturally on the models going back 15 to 40 years, i. e. the Isetta, New Class, 02 Series, E3, E9, E12, E21, E23, E24 and Z1, though parts remanufacturing for the BMW 700, the V8-models and even some prewar models, as well as classic BMW motorcycles built between 1948-69, is also in progress. The information contained on this CD-ROM goes well beyond the realm of spare parts and includes details of dealers and workshop equipment, operating facilities, repair kits and accessories. The CD-ROM also provides the names of contacts at Mobile Tradition for queries concerning spares, as well as a 4-page CD cover card with installation instructions and telephone hotline information. lt is planned to issue an updated and expanded version of the catalogue on roughly a yearly basis.
BMW Mobile Tradition
If this has been posted before, sorry for the WOB.
If you think it looks like a hoax, then point your browser at: http://www.bmw-club-europa.de/frame_e.htm
Follow the links to 'news'
Paul Drawmer
NOTE! Pressing 'reply' will not work. Please construct reply address as below. <first name>_at_<last name>.demon.co.uk
http://www.drawmer.demon.co.uk/Z1home.htm
Unofficial Homepages: [Home] [E12] [E24] [E28] [E30] [E34] [E36] [Z3] [E39] [E46] [X5/E53] [ALL] [ Help ]