Home
E12
E24
E28
E30
E34
E36
Z3
E39
E46
X5/E53
ALL
Ron Stygar
Carl Buckland
Dale Beuning
Forums
Help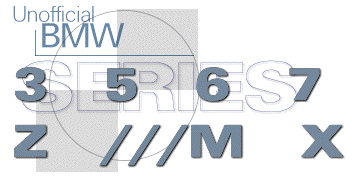 ---
---
From digest.v7.n717 Fri Dec 5 20:22:06 1997
From: celler_at_gunster.com
Date: Fri, 5 Dec 1997 15:48:10 -0500
Subject: <OT> Laser Detectors

Date: 12/05/1997 03:42 pm (Friday) From: C. Craig Eller
To: BMW Digest Submission
Subject: <OT> Laser Detectors
Ok you laser fiends out there. I'm working on this countermeasure as we speak. As far as detection goes, the V1 is said to do a good job, the problem is detection may not get you much warning as the laser guns are inherently "instant-on" devices. The narrow bandwidth prevents you from getting the blip warning you would usually get from an instant on radar gun.
The solution: JAMMING!!! FCC jamming laws haven't caught up with the technology yet, so its not illegal to jam laser. Be careful, there is a whole bunch of strait up snake oil out there. There are only two known devices out there that have been independently tested and appear to work. No. 1 - K40's new Laser Diffuser Plus. Uses high power LEDs to scramble the laser guns reception right up to the gun!! No. 2- Lidatec's Laser Echo. Uses its own laser generator to jam the gun for 5 seconds. Both are priced around $300. I'm opting for the K40 as soon as they resolve a waterproofing problem with their equipment. The reason I like the K40 is there is no equipment to mount inside the car except for a small speaker and a LED indicator. Very stealth.
I will be able to tell by the faces of the Hardley Driveable riding tax collectors how well it works.
Craig Eller
BMW CCA Everglades Chapter
E36 M3
RM3DR1, UUC
Unofficial Homepages: [Home] [E12] [E24] [E28] [E30] [E34] [E36] [Z3] [E39] [E46] [X5/E53] [ALL] [ Help ]