Home
E12
E24
E28
E30
E34
E36
Z3
E39
E46
X5/E53
ALL
Ron Stygar
Carl Buckland
Dale Beuning
Forums
Help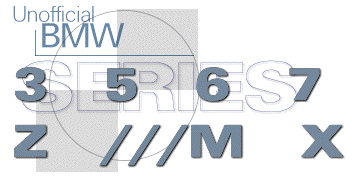 ---
---
From owner-e36m3_at_Mailing-List.net Tue Sep 21 08:38:53 1999
for <dale_at_unofficialbmw.com>; Tue, 21 Sep 1999 08:38:52 -0700
by pk.nord-com.de (8.9.1/8.9.1) with ESMTP id RAA11263;
Tue, 21 Sep 1999 17:32:48 +0200 (MET DST)
X-Authentication-Warning: eisbox.nord-com.de: john.firestone owned process doing -bs
Date: Tue, 21 Sep 1999 17:24:20 +0200 (MEST)
From: John Firestone <john.firestone_at_nord-com.net>
To: e36m3-digest_at_Mailing-List.net
cc: BMW UUC digest <bmwuucdigest_at_list-server.net>
Subject: [E36M3] IAA '99

I have started to write up what we saw at the Frankfurt Auto show last week. Here are a few impressions and observations of BMW's offerings. If there is any interest, there is plenty more to write about.
-John
It has been an exceptionally good summer in much of Europe this year, with a string of sunny and warm days starting in late April that only now is beginning to fade this day of the fall equinox. Like the summer, there were few really new developments at this year's international auto show (IAA) in Frankfurt. Gradual evolution rather than revolution was the order of the day with most of the 1111 exhibitors presenting work and products widely known to have been in progress.
In their tent in Area 3, our favorite auto maker presented the Z8, previously shown as the Z07 at the Tokyo and Detroit motor shows, the coming M3 and the new 3er touring. All looked quite good to this observer. To his untrained eye, the Z8 looked like a favorable mix of the the Roadster, the 507 and the old Jaguar E-type, with a very clean and simple cockpit. We can hope that that will hold as the car goes into production.
It was not possible to look under the hood nor get much new information about the Z8. Instead, one could enjoy a somewhat breathless press release. Here is a sample:
... the final result is a classic sports car with mind-boggling charm and style: supple but muscular, sophisticated and unique, with all the ingredients to create a new myth in the world of motoring.
There was much less to read about or see of the next M3. BMW showed a closed and blacked out show car [Serie] of what it could look like and only promised that it would have an inline-6, double VANOS, individual butterflies, a 250 km/h electronically limited top speed and performance at least as good as its predecessor.
It was possible, however, to get a good look of the 3er touring, both inside and out. It is arguably the most handsome of the E46 3ers, at least to this American who grew up when such cars rather than trucks roamed the U.S. Midwest. Like its predecessor, it is not the best wagon for hauling cargo, with less capacity than the four-door sedan when the rear seats are up and (still) an uneven floor when the seats are down. It should weigh about 60-80 kg (130-180 lbs) more than the sedan and will be available (at least in Germany) with the same options, along with rooftop cargo railings.
Around one edge of the tent, BMW showed their past technical glories and a few of their current projects. One of the more fun is a system that recognize road signs, to warn the driver when he has overlooked a speed limit change, for example, or, perhaps in future, to assist with the driving. The system was developed as part of the Prometheus Project supported by the EU and a consortium of European universities and manufacturers including BMW. The system is still under development. If you find yourself at the show, raise and slowly turn the slippery road sign and watch what happens. :)
Outside BMW showed their commitment to the hydrogen powered, internal combustion engine with a filing station and a fleet of hydrogen-powered cars. BMW still believes that hydrogen-fueled, internal combustion engines will ultimately propel cars, perhaps with fuel cells providing auxiliary power for their electrical systems. In a show of their faith, they have erected a temple in the square, placed an enormous icon of their sacred power source at its center and set it to motion to feed on the elements, accompanied by clouds, thunderous music and flashes of light. BMW car club members should genuflect and make the sign of the roundel before entering.
It will be interesting to see if this proves to be the right vision. If not, BMW may not be the first but their solutions will be the best.
Next door, in Hall 3, Alpina showed their cars which, alas, they can not sell to the U.S. because of excessive demand. Like producers of fine wine, Alpina does not wish to mass produce their product as they feel it would compromise its quality. The California market, alone, could absorb the 700 cars a year they produce - and leave nothing for Europe.
--
john.firestone_at_nord-com.net
Unofficial Homepages: [Home] [E12] [E24] [E28] [E30] [E34] [E36] [Z3] [E39] [E46] [X5/E53] [ALL] [ Help ]