Home
E12
E24
E28
E30
E34
E36
Z3
E39
E46
X5/E53
ALL
Ron Stygar
Carl Buckland
Dale Beuning
Forums
Help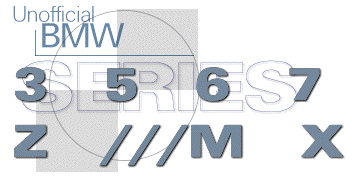 ---
---
From digest.v7.n1327 Tue Mar 17 16:32:48 1998
From: "Bill Romanowski" <billr_at_prairie.com>
Date: Tue, 17 Mar 1998 13:00:53 -0500
Subject: Re: gps / navigation systems <GPS>

>Has anyone had any experience with gps or navigation components? I did see
>one the other day that looked nice. Bad news was that it was about $80,000
>good news you got a 7-series to go with it.
The BMW unit is a somewhat OEM'ed version of the Philip's Carin system: see www.carin.com
After a web search, I emailed USA Global Link http://www.usa-globallink.com/global/carin.htm
about prices and got this response:
---
The Carin 520 model which includes the display monitor, navigation computer and remote control retails at $2495.00.

The CD for your area is $150.00
and the entire set of seven CDs are $650.00. Shipping is from Texas, therefore no sales tax. Shipping cost is approximately $30.00. Installation can be arranged with advanced notice.

Should you want to use another vehicle (such as an RV tow-vehicle)
all that would be required is the 2nd vehicle installation kit which retails at $495.00. (this is wire harness and sat antenna only no display or CD head unit)

Thanks for your inquiry.
I am looking forward to receiving your order.

Sincerely,
Gary Wells
---
A couple weeks later I got this message from them:
---
You'll be glad you waited to purchase the Carin! The price on the entire unit has dropped from $2495.00 to $1995.00.
The CDs are still $650.00 for the entire set of seven or $150.00 each.

Just thought I would let you know.

Leigh Woolhouse
Marketing Director
---
The official line from philips is that they want you to go to Circuit City or Pep Boys and have the kids in the back room install it.
If you want to play with GPS and without the $2k commitment, try a Garmin GPS III.
www.garmin.com
It's fun, costs about $350 and sits on the dash nicely. It won't direct you to a destination like the Carin unit but locks on to the sats every time and has a moving map of the entire US that shows all interstates and most "major" roads. Green backlight, sorry no red.
Bill Romanowski
'90 535i (GPS enabled)
'94 K75s (also with a GPS III)
Unofficial Homepages: [Home] [E12] [E24] [E28] [E30] [E34] [E36] [Z3] [E39] [E46] [X5/E53] [ALL] [ Help ]