Home
E12
E24
E28
E30
E34
E36
Z3
E39
E46
X5/E53
ALL
Ron Stygar
Carl Buckland
Dale Beuning
Forums
Help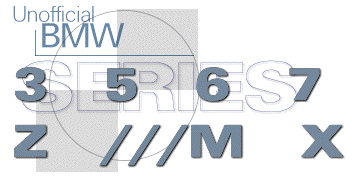 ---
---
From digest.v4.n749 Wed Jun 19 22:36:44 1996
From: Marc Schatell <marcs_at_nr.infi.net>
Date: Wed, 19 Jun 1996 21:30:36 -0400 (EDT)
Subject: EPA/DOT Paperwork

Tom (and anyone interested),
The EPA/DOT paperwork is important for a couple of reasons. First of all, the assurance that the car was legally imported under whatever policy was in effect at that time. This is also good for peace of mind, as (hopefully) this assures the car has safety glass, door beams, reinforced bumpers, etc. If you have any questions about a particular car, you can call the EPA at 202/233-9660, tell them the VIN of the car, and they will tell you if it was properly imported. They don't even ask your name! They can also print you a letter stating the car was properly imported, if in fact it was.
The second reason this paperwork is nice to have is that you can then get an exclusion from tailpipe emissions testing. With the letter I received from the EPA, the local gas station I went to was able to call the state headquarters, then give me a "safety-only" inspection on my '81 M535i.
By the way, my car is for sale if anyone is interested. It's a Euro E12 5 series with a 3.5 liter 218-hp motor, just-rebuilt close-ratio 5-speed transmission, limited-slip, leather interior, 113k miles, nice shape but needs paint. Asking $7000, email if interested.
>


>From:  NAME: Thomas L Pappenhagen          

>       FUNC: CR&D                            
>       TEL: (609) 540-3613                   <PAPPENTL AT A1 AT JLCL01>

>To: "BMW-DIGEST_at_LISTS.BALLTOWN.CMA.COM"_at_ESDS01_at_MRGATE
>
>Would someone please explain to me (privately if you wish) why
>you need the EPA/DOT papers for a gray-market car? What are
>these papers? Is the metal plate on the door jam indicating the
>importer sufficient?
>
Marc Schatell
Winston-Salem, NC
marcs_at_nr.infi.net
'81 M535i
'88 M3
'87 750 Paso
Unofficial Homepages: [Home] [E12] [E24] [E28] [E30] [E34] [E36] [Z3] [E39] [E46] [X5/E53] [ALL] [ Help ]