Home
E12
E24
E28
E30
E34
E36
Z3
E39
E46
X5/E53
ALL
Ron Stygar
Carl Buckland
Dale Beuning
Forums
Help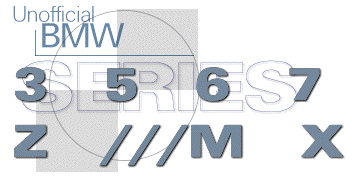 ---
---
From owner-e36m3_at_Mailing-List.net Tue Nov 9 03:47:47 1999
for <dale_at_unofficialbmw.com>; Tue, 9 Nov 1999 03:47:47 -0800
by pk.nord-com.de (8.9.1/8.9.1) with ESMTP id MAA11539;
Tue, 9 Nov 1999 12:46:24 +0100 (MET)
X-Authentication-Warning: eisbox.nord-com.de: john.firestone owned process doing -bs
Date: Tue, 9 Nov 1999 12:10:40 +0100 (MET)
From: John Firestone <john.firestone_at_nord-com.net>
To: Partha Srinivasan <partha_at_home.com>
cc: e36m3_at_Mailing-List.net
Subject: [E36M3] RE: E-mailing BMW AG

On Mon, 8 Nov 1999, Partha Srinivasan wrote:
> (1) Write Email to BMW AG - the main BMW website at
> www.bmw.com - Contact Us menu - allows you to send email to either the HQ
> or to the particular countries division. We should come
> up with a standard format - and address this to the M Divison
> as opposed to BMW main. The M Division is for enthusiats
> and what the List and website stands for is a conglomeration
> of enthusiats.
I would suggest writing and sending a letter to a particular person at BMW AG or BMW M Division if you wish to communicate with them. A letter has more impact, as signing a letter is a lot closer to signing a purchase order than hitting the send button. E-mail's can also be easily redirected to the customer's local subsidiary, and routinely are. In the letter, I might suggest you also ask the recipient to address issues that only they can address. Otherwise, the response to your letter will probably be delegated to the subsidiary and perhaps forgotten.
> (2) Bring this up with Roundel (BMWCCA). BMW NA listens to
> them. Everyone who is a BMWCCA member - hit them up with
> the email also.
Yes, do it. BMW AG also listens carefully to the Roundel.
-John
'96 318is
--
john.firestone_at_nord-com.net
Unofficial Homepages: [Home] [E12] [E24] [E28] [E30] [E34] [E36] [Z3] [E39] [E46] [X5/E53] [ALL] [ Help ]