Home
E12
E24
E28
E30
E34
E36
Z3
E39
E46
X5/E53
ALL
Ron Stygar
Carl Buckland
Dale Beuning
Forums
Help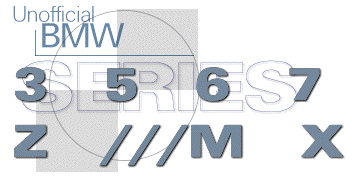 ---
---
From digest.v5.n32 Thu Jul 25 20:09:03 1996
From: Jonathan Forbes <jforbes_at_microsoft.com>
Date: Thu, 25 Jul 1996 15:50:22 -0700
Subject: RE: Craving info on the "new" 3 series

> From: Ryan & Jennifer McQueeney <rmcqueen_at_blitz.net>
>
>Dear all,
> My wife thinks that I am obsessed, but I know I can count on you guys =
>to support my new found "dark" side. I have posted a few messages =
>before when trying to decide which options I wanted on my new 328i. I =
>have since ordered a 1997 328i with sports package, asc&t in cosmos =
>black w/ black leather. I am so excited about getting the car that =
>sometimes I can't stop thinking about it. Part of my obsession is =
>trying to find out what the changes are from the 1996 model. I was =
>recently on a trip to the north sea from my home in Bamberg (northern =
>Bavaria) and while stopped for fuel I noticed a German car magazine near
=
>the cashier with an article about the new 3. I am doing OK with German =
>after living here for almost three years, so from what I could gather =
>from the German article the 1997 has:
The E46 won't be debut until November 1997 in Germany, and probably around May 1998 in North America. The car you have ordered is an E36, and as far as I know, there aren't any differences between the 1996 and 1997 models (although I did read a snippet in Car magazine that said that they were reshaping the front to look like the new 5, to perk up interest in the car in its last year of life).
>Can anyone confirm this? Even better, can anyone tell me where I can =
>get more information on my new car? I believe that it may be called the
=
>E46 and no longer the E36? I really want to know more. My car goes =
>into production in the 3rd week of September (after the Munich factory =
>takes the standard month long summer break). I won't see it until the =
>beginning of October, so until then I need more information to satisfy =
>my obsession. Thanks in advance.
There are pictures of the undisguised E46 in sedan, coupe, and convertible forms in the latest "BMW Car Magazine" (it's a really small magazine, a UK production). The design is not too exciting, and the coupe looks a bit disproportionate. Nothing is known about the suspension details; I really really hope they're using double wishbones up front, with the suspension made out of aluminium, as with the new 5. The petrol engines are the same as the current ones.
But you'll have to wait more than a year to buy an E46, and add another year to that if you want a coupe. I think you've bought the wrong car...
>LT Ryan McQueeney
>82nd Engineer Battalion
>Bamberg, Germany
>1997 328i sports package, asc&t, cosmos black (on order, delivery in =
Oct)
>1992 VW Corrado VR6 (current autobahn scooter)
>Just Sold: 1985 Honda CRXsi, (good riddens)
Unofficial Homepages: [Home] [E12] [E24] [E28] [E30] [E34] [E36] [Z3] [E39] [E46] [X5/E53] [ALL] [ Help ]