Home
E12
E24
E28
E30
E34
E36
Z3
E39
E46
X5/E53
ALL
Ron Stygar
Carl Buckland
Dale Beuning
Forums
Help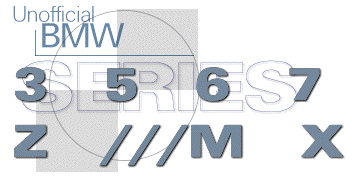 ---
---
From digest.v7.n33 Fri Aug 1 12:39:26 1997
From: "David McIntyre" <dmcintyr_at_bfm.com>
Date: Fri, 1 Aug 1997 09:23:04 -0400
Subject: Re: <e36> M3 Winter Driving

> I live in Colorado and own a 95 M3, in winter the car is hopeless.....
> someone told me to put some sand bags in the trunk to make the car more
> stable on the rear, and a set of winter tires, or a Ford Expedition......
The only thing hopeless is someone who lives in Colorado and yet doesn't put snow tires on their car!
Seriously, if you put 4 (four, not two, four) high-quality snow tires on your M3, and perhaps 2 50lb bags of cat litter or sand in the trunk, you will drive circles around nearly any SUV you can find. I have gotten extreme pleasure out of passing stuck 4wd vehicles on inclines in various old and new 2wd BMW's when using high-quality snowtires.
There are many excellent snow tires, buy my favorites are Nokia Hakkepellitas. Why would you buy snow tires from any company whose test track wasn't above the artic circle?
-Dave
Unofficial Homepages: [Home] [E12] [E24] [E28] [E30] [E34] [E36] [Z3] [E39] [E46] [X5/E53] [ALL] [ Help ]