Home
E12
E24
E28
E30
E34
E36
Z3
E39
E46
X5/E53
ALL
Ron Stygar
Carl Buckland
Dale Beuning
Forums
Help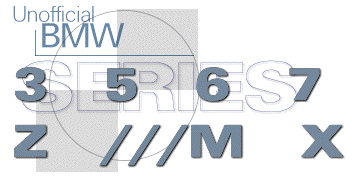 ---
---
From RonStygar_at_aol.com Sat Feb 14 19:03:03 1998
From: RonStygar_at_aol.com
Date: Sat, 14 Feb 1998 22:00:39 EST
To: BMW-digest_at_mailgate.wizvax.net
Cc: dale_at_unofficialbmw.com
Subject: <All> BMW List of Main Groups, Sub Group ?

The following is a list of BMW's Main Groups. Their price book, parts, repair, and technical data fiche etc. follow this scheme. Knowing the groups is handy when looking up things. For example, when Craig Eller wanted to know the tethering parts to mount the rear child seat in his E36, I knew to look under group 72 (Equipment and Accessories for Engine and Body) in the parts fiche. Bingo. His BMW parts man and the person at BMWNA did not.
Sometimes BMW only labels an item with the last seven digits of the part #. For example, the 16 inch five spoke wheels on my '97 tis (part # 36 11 1 182 529) are stamped with part # 1 182 529. Knowing this, I knew that the first two digits of the part # were 36 (Wheels and Tyres). The second two digits are (Sub Group 11).
I've yet to figure out the meaning of the sub groups number. Sometimes it fits. In the wheel case it doesn't appear to. Anyone out there familiar with the sub group scheme?
List of Main Groups
00 Maintenance and General Data
11 Engine
12 Engine Electrical
13 Fuel System
16 Fuel Tank and Lines
17 Radiator
18 Exhaust
21 Clutch
23 Manual Transmission
24 Automatic Transmission
25 Gear Shift Mechanism
26 Propeller Shaft
27 Transfer Box
31 Front Axle
32 Steering and Wheel Alignment
33 Rear Axle
34 Brakes
35 Pedals
36 Wheels and Tyres
37 Intergrated Suspension System
41 Body
51 Body Equipment
52 Seats
54 Sliding/tilt-up Sunroof, Convertible Top
61 General Electrical System
63 Lights
64 Heat and Air Conditioning
65 Radio and Special Equipment
66 Transmission-Receiver Systems/Transceiver Systems
67 Electrical Drives
71 Equipment and Acccessories for Engine and Chassis
72 Equipment and Accessories for Engine and Body
84 Communications System
88 BMW Models
96 Car Telephone
97 Body Cavity Sealing and Undercoating
99 Paint Work

RonStygar_at_aol.com FLY BMW
http://www.unofficialbmw.com/ronstygar.html
Unofficial Homepages: [Home] [E12] [E24] [E28] [E30] [E34] [E36] [Z3] [E39] [E46] [X5/E53] [ALL] [ Help ]