Google Search

Search (Google!!)
Search Amazon.com
Home
E12
E24
E28
E30
E34
E36
Z3
E39
E46
X5/E53
ALL
Ron Stygar
Carl Buckland
Dale Beuning
Forums
Help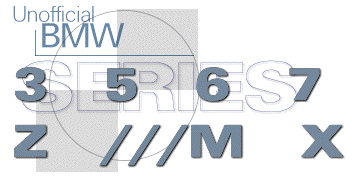 ---
---
From digest.v5.n88 Thu Aug 8 13:08:46 1996
From: lchang_at_cadence.com (Leon Chang)
Date: Thu, 8 Aug 1996 10:07:00 -0700
Subject: Re: bmw service in the bay area CA

I kept the following posting from awhile back on BMW service places in the south bay. I've been using A&E Performance for my 86 325es and they're pretty good. Although there is a new place that just recently opened up in Cupertino on Bubb Rd. I don't recall their name, has anyone else heard or experienced their work?
Authored by Lawrence Cheng, lcheng_at_creaf.com
---
The 'Ultimate Motor Works' shop located on Walsh Ave and Kifer(?) Blvd in Santa Clara does good work at reasonable prices. I've taken my car for all the major Inspection services in the past. They have coupon specials that they might give you even if you don't have the coupon. In anycase, they're a whole lot cheaper than the dealer. 408-496-1033; 2020 Walsh Ave, Santa Clara, 95050
---
Try Dinan Engineering. Although they are known for their high performance modifications, they also do routine maintenance, repair, etc. I don't like my BMW dealer's service(I don't trust them), so Dinan is my 1st choice. 415-962-9401; 150 S. Whisman-Bldg E, Mountain View
---
I have been getting my service from European Car which is located at the intersection of Central Expressway and Fair Oaks in Sunnyvale. Their phone # is (408) 736-6660, ask for "Mato". There labor rates are reasonable, and I have been well satisfied with the quality of their work. If you go to check out the shop, there is a newspaper clipping posted from a few years back that rates repair shops, they are listed and ranked very high.
---
I've been a customer of A&E Performance for over 7 years, and can honestly say that they are worth every penny they charge. If you want the job done right (the first time) and someone you will back their work up, in my opinion, there NO other shop around. 408-866-0606; 2091 S. Winchester Blvd., Campbell
---
Leon Chang
86 325es; Dinan/RD/Bilstein/TSW
---
From digest.v5.n91 Fri Aug 9 09:40:55 1996
From: bbechtol_at_cisco.com (Bill Bechtold)
Date: Fri, 9 Aug 1996 07:33:56 -0700
Subject: BMW Service in the Bay Area

Howdy,
The one, the only place to go is: M-Performance. TRUST ME! The head mechanic, Mike, is awesome! He not only charges much less than all the other service folks, but he actually knows what he's doing (unlike Peter Pan, etc...) Mike was a BMW NA trainer of BMW mechanics, I think his title was "Master Mechanic". Any guy with "master" in his title has got to be good. ;-) Talk to Mike, I have sent other digesters to him who had spent countless dollars at dealers when Mike is able to fix the cars for MUCH-MUCH LESS. Recently a friend was having a problem with his A/C fuse going out in his M3. After $200+ at Peter Pan, the fuse was still popping. In two minutes, YES TWO, Mike was able to fix this, and for free! He even has a customer who comes all the way from Oregon to have his car worked on! I am in no way associated with M-Performance, other than being a VERY happy customer. M-Performance is located in Burlingame. I drive all the way up from San Jose just to see him. Trust me, it is worth it. He is the first honest mechanic (oxymoron?) that I have ever met....
BTW, tell him I sent you!
---
Bill Bechtold
bbechtol_at_cisco.com
'89 BMW ///M3

        Jim Conforti/M-Performance/Dinan Tuned
        Racing Dynamic Wheels w/P-Zeros
'67 Pontiac Firebird 400
        325+ HP Stock, and Staying That Way!

---
---
From digest.v5.n93 Fri Aug 9 19:22:12 1996
From: ericl_at_hooked.net (Eric Lee)
Date: Fri, 9 Aug 1996 12:30:35 -0700
Subject: Re: bmw service in the bay area CA

I have gotten excellent service from International Auto Clinic in Cupertino. The owner, Wes Jones, is a very honest and trustworthy individual. I have been going there for about eight years and he has taken very good care of my BMWs. HIs prices are very reasonable. His phone number is (408)255-0404.
Eric Lee
'84 318i (250k+)
'72 Bavaria (200k+)
Unofficial Homepages: [Home] [E12] [E24] [E28] [E30] [E34] [E36] [Z3] [E39] [E46] [X5/E53] [ALL] [ Help ]