Home
E12
E24
E28
E30
E34
E36
Z3
E39
E46
X5/E53
ALL
Ron Stygar
Carl Buckland
Dale Beuning
Forums
Help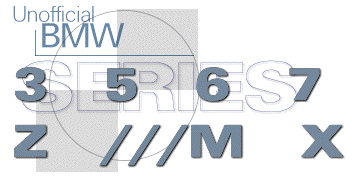 ---
---
From digest.v7.n287 Wed Sep 17 03:35:24 1997
From: "Adwo Heintjes"<nlheint1_at_mey.nl>
Date: Wed, 17 Sep 1997 09:07:53 +0100
Subject: E30 Alpina

>2. I purchased a 1989 E30 Alpina from an auction this weekend. It has
>only 75,XXX kilo's which is about 40-50K miles. It's automatic, 2 liter
>and has many extras. I wanted to know it anyone has an estimate on how
>much it's worth on the market. I plan on making somethng on it in the
Jay:
>Are you sure it's really an Alpina? I thought theE30 Alpinas were all
>2.3 & 2.5L sixes? Also, I would think that they would all be 5spds
>(instead of automatics).
Yep,
All Alpina's are 2.3 or 2.5/2.7 small blocks or 2.8/3.5 big block out of 5-series.
Small blocks C1, C2 and C3, big ones B6 or B6 3.5 or E30 M3 --> B6 3.5 S.
Automatics available, at least in 1984 (I have an original brochure).
Alpina's can be recognized by: (not complete)
- Silver plate central console with type and production number
- 16 inch Alpina wheels
- lowered with Biltstein's
- B6 has cooled diff (option on C1,2,3)
- Scheel interior with green/purple stripes
- Alpina wheel (4-spoke)
- Original cars are have Alpina as manufacturer and not BMW (anybody know as from which year?)
Summary, 2-liter E-30 definitely no Alpina. Anybody interested I can provide with exact production numbers.
Value:
Prices in Germany seem to vary between DM 7.000 and DM 20.000 for a C1,2,3 or B6/B6 3.5 (depending on year and mileage (now; that's new!)). Never seen a B6 3.5 S for sale. FWIW: Once saw a Hartge H36-24 for sale, modified Sport Evolution with 315 HP for DM 45.000 (I have a JPEG).
Later,
Adwo
Unofficial Homepages: [Home] [E12] [E24] [E28] [E30] [E34] [E36] [Z3] [E39] [E46] [X5/E53] [ALL] [ Help ]