Home
E12
E24
E28
E30
E34
E36
Z3
E39
E46
X5/E53
ALL
Ron Stygar
Carl Buckland
Dale Beuning
Forums
Help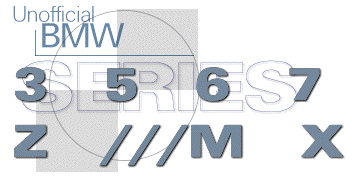 ---
---
From digest.v7.n1014 Sat Jan 24 19:37:37 1998
From: NeilMaller <NeilMaller_at_aol.com>
Date: Sat, 24 Jan 1998 14:18:28 EST
Subject: Re: Re: unclogging sunroof drain tubes

>From: "brett anderson" <bretta_at_bestweb.net>
>Date: Fri, 23 Jan 1998 20:22:43 -0500
>Subject: Re: unclogging sunroof drain tubes THE WINNER IS....BA
>>
>> From: Bruce McReynolds <bmcr_at_lanl.gov>
>> Date: Tue, 20 Jan 1998 21:27:26 -0700
>> Subject: unclogging sunroof drain tubes
>> ------------------------------
>> I used Weedwhacker plastic cord. You don't want to puncture the rubber
>> tube.
>
>Give the man a medal.!!!!
>This would have to be the most sensible, ingenious, and just plain smart
>idea I have seen posted by a "backyard mechanic" yet.
>It is so good, I will be at the hardware store the first day back from
>vacation to buy some "whippersnipper"
Here's a little follow-on suggestion to Bruce McReynold's excellent idea.
Drain tubes of this sort have a tendency to grow fungus in their dark, moist insides. In fact this can even be the cause of the blockage. After you've mechanically unblocked the tube with nylon weedwhacker line, pour a solution of household bleach down the tube to kill any remaining fungus. (Don't splash any bleach on your headliner or upholstery!)
This is standard practice when unblocking the drain tubes in household refrigerators.
Neil
96 M3
Unofficial Homepages: [Home] [E12] [E24] [E28] [E30] [E34] [E36] [Z3] [E39] [E46] [X5/E53] [ALL] [ Help ]