Home
E12
E24
E28
E30
E34
E36
Z3
E39
E46
X5/E53
ALL
Ron Stygar
Carl Buckland
Dale Beuning
Forums
Help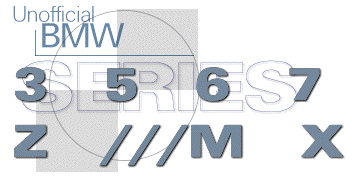 ---
---
From digest.v6.n506 Wed Apr 9 16:15:09 1997
From: djchin_at_lynxcalif.com (daniel j. chin)
Date: Wed, 9 Apr 1997 09:44:51 -0700
Subject: re: <E36 M3> sheepskin covers

Lee,
Most cities have local outlets that sell sheepskins. Several firms advertise in R&T, European Car or the Roundel. Be forewarned, the advertisers charge ~$400 or more for a custom tailored set. The better firms will mail you samples of the skins to allow color and texture/density testing.
I'd recommend searching thru local outlets. You personally see the exact skins you buy, check the pile and color uniformity etc. They should run about $125-$150 each. Many firms have precut skins that are cheaper than custom tailored. I've had such skins on my last 3 BMWs and only on the M3 did i have to have minor modifications to improve the fit (the color match for Modena was so good, i had to get a specific pair).
Oh, I put sheepskins on my 96 M3 immediately after purchase. Believe me, i've had leather interiors on cars with & without sheepskins and the comfort and improved seat durability is enormous. Cool in the summer and warm in the winter (no need for heated seats in Calif). Also, the side bolsters don't wear as badly.
dan
96 M3, http://agi.org/dc/r96M3.html
Unofficial Homepages: [Home] [E12] [E24] [E28] [E30] [E34] [E36] [Z3] [E39] [E46] [X5/E53] [ALL] [ Help ]