Google Search

Search (Google!!)
Search Amazon.com
Home
E12
E24
E28
E30
E34
E36
Z3
E39
E46
X5/E53
ALL
Ron Stygar
Carl Buckland
Dale Beuning
Forums
Help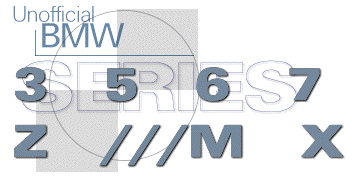 ---
---
From digest.v7.n1222 Mon Mar 2 12:59:04 1998
From: NewtMan <NewtMan_at_aol.com>
Date: Mon, 2 Mar 1998 08:23:51 EST
Subject: Re: OBC "memo" chime?

In a message dated 3/2/98 7:03:45 AM Eastern Standard Time, owner-bmwdigest _at_mailgate.wizvax.net writes:
<< From: Hank Eskin <henry_at_ix.netcom.com> Date: Sun, 01 Mar 1998 22:45:42 -0500
Subject: [E36,others] OBC "memo" chime?
Has anyone figured out why the clock chimes at 15 seconds BEFORE the hour, rather than at the Hour? I keep having to explain to friends that it must be german engineering.... Any thoughts?
P.S. Yes, I know I can turn it off, thanks. >>
---
Hank:

In Germany, traffic and weather is broadcast every hour on the hour (as well as at other intervals). This beep is simply a reminder for autobahn travelers 15 seconds in advance of each hour so they can tune in the radio in time to catch the latest report.

Pretty neat.

Tom Newton

1997 M3 Estoril Blue/Mulberry, 5 speed
---
Options: Lux pkg, Harmon, htd seats, moon roof, CD changer Aftermarket: RD Strut Brace, BMP gauge cluster, clear lenses View it: http://home.earthlink.net/~newtman/
---
BMWCCA # 111050, NY Chapter

Unofficial Homepages: [Home] [E12] [E24] [E28] [E30] [E34] [E36] [Z3] [E39] [E46] [X5/E53] [ALL] [ Help ]