Home
E12
E24
E28
E30
E34
E36
Z3
E39
E46
X5/E53
ALL
Ron Stygar
Carl Buckland
Dale Beuning
Forums
Help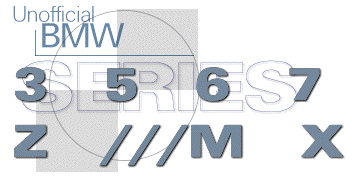 ---
---
From list-errors.700002333.0.700754162_at_boing.topica.com Wed Dec 29 12:42:16 1999
for <dale_at_unofficialbmw.com>; Wed, 29 Dec 1999 12:42:16 -0800
To: e46 list <list_at_e46.com>, E36 M3 List <e36m3_at_topica.com>,
bmwuucdigest_at_topica.com, thelist_at_bmw318ti.org
From: Ben Liaw <ben_at_shortshifter.com>
Subject: [E36M3] M5 dead pedal
Date: Wed, 29 Dec 1999 12:42:10 -0800
Reply-To: ben_at_shortshifter.com
charset="windows-1257"

after seeing multiple M5s in the flesh, i was very curious about the cool looking M5 dead pedal. it seem to have a titanium-finished metal plate with a molded ///M pad on it. very trick.
however, when you order the M5 part #51 43 2 499 065 ($66.50 list), it comes as a complete assembly, integrated into the side kick panel.
with a small drill and double sided sticky tape, you can carefully take apart the M5 dead pedal and install it into the car you wish. i used 3M's scotch mounting tape 114 (1" x 50" roll, $3.19) and had plently left over.
http://www.uucmotorwerks.com/images/m_dead_pedal.jpg
good luck.
regards,
ben liaw
www.uucmotorwerks.com
---
Get your favorite topic delivered daily. http://www.topica.com/t/11

Unofficial Homepages: [Home] [E12] [E24] [E28] [E30] [E34] [E36] [Z3] [E39] [E46] [X5/E53] [ALL] [ Help ]