Home
E12
E24
E28
E30
E34
E36
Z3
E39
E46
X5/E53
ALL
Ron Stygar
Carl Buckland
Dale Beuning
Forums
Help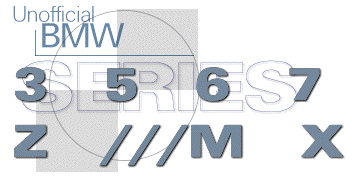 ---
---
From digest.v7.n603 Sun Nov 16 23:42:23 1997
From: Duane Collie <trapdnce_at_pop.erols.com>
Date: Sun, 16 Nov 1997 20:49:51 -0500
Subject: Leather Steering Wheels

> >Also within the last 2 months my steering wheel has totally deteriorated.
> >The leather is rubbing off onto my hands. Dealer said it was "NORMAL wear
> >and tear", but he will "Goodwill" me a new one. Has anyone else had these
> >problems.
Leather will deteriorate over time depending on a number of factors such as high heat, dampness, exposure, etc. Car interiors are very hostile enviroments for leather as a rule. I've seen a few leather steering wheel covers get trashed over time. One of the factors contributing to the deterioration are the natural oils and dirt on your hands. Unless you CLEAN the leather stering wheel cover routinely, (with every car wash, preferably) it will eventually go bad on you. When you use the leather conditioners, it very important to clean the cover first. Best cleaner? Ivory Soap & Water. Or you can buy the fancy - schmancy stuff for six bucks a bottle (its just perfumed soap anyways).
If you really want to avoid wear on the leather steering wheel, wear a pair of driving gloves.
Duane Collie
RM3DR1
National Capital Chapter
Unofficial Homepages: [Home] [E12] [E24] [E28] [E30] [E34] [E36] [Z3] [E39] [E46] [X5/E53] [ALL] [ Help ]