Home
E12
E24
E28
E30
E34
E36
Z3
E39
E46
X5/E53
ALL
Ron Stygar
Carl Buckland
Dale Beuning
Forums
Help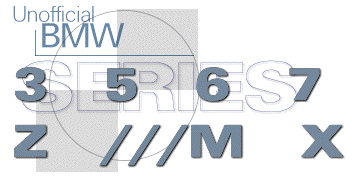 ---
---
From digest.v7.n1094 Sat Feb 7 19:17:19 1998
From: Duane Collie <trapdnce_at_erols.com>
Date: Sat, 07 Feb 1998 14:58:57 -0500
Subject: <response> Leather Dyes

>From: grifster_at_worldnet.att.net (Peabody Here)
>Date: Sat, 07 Feb 1998 14:49:24 GMT
>Subject: Leather Seats and Re-dying
>I have a 1994 530i that I bought a few months ago from a BMW
>dealership as a certified preowned. As part of the prep work before I
>bought it, the dealership had a company come in and re-dye the seats
>in the front with a spray on dye. The job looked great until after a
>few weeks the dye started to flake off! I have since had the
>dealership re-dye the seats again, but after three months, the flaking
>has started again.
>
>Is there a way to remove this sprayed on dye? I know that the BMW
>leather is not sprayed originally and I do not know why they sprayed
>it in the first place? The interior was didrty but not damaged... by
>the way, it is the silver gray color. Is there a chemical that I can
>use to remove the dye, yet not damage the original leather finish?
Gawd, I hate it when these guys spray lacquer on the seats. This is nothing more than a cheap paint job on your seats that will continually give you fits. They are 'painting' the leather, not re-dying it.
The # 1 Source for QUALITY leather care products is Leathermaster. They make the right stuff for all types of leather needs (makes Lexol look like 409 cleaner).
Leathermaster
3720-A Alliance Drive
Greensboro, NC 27407
tel: 910-854-5921
fax: 910-854-7976
Talk with Ronnie - he's the expert at touch-ups. He'll fix you up with a kit to strip off the crap that's on there now, prep the surface, and re-dye the leather. You can easily do it yourself. You will probably need to send him in a leather sample for color match (BMW sometimes has these swatched in the Owners Manual Portfolio, otherwise snip off a piece under the seat, etc.) Get a cleaning care kit, too. Be prepared to spend about $ 80 for everything you need.
Leathermaster products are all I use on my cars and in my furniture business. Their product line is targeted at the professional leather trade, so it is very broad and deep. Try to explain as much as you can on the phone and let Ronnie tell you what you need to get your seats back where they should be. Don't expect miracles, but a 95% repair can be accomplished with a little patience.
Duane Collie
RM3DR1 / UUC
National Capital Chapter
Unofficial Homepages: [Home] [E12] [E24] [E28] [E30] [E34] [E36] [Z3] [E39] [E46] [X5/E53] [ALL] [ Help ]