Google Search

Search (Google!!)
Search Amazon.com
Home
E12
E24
E28
E30
E34
E36
Z3
E39
E46
X5/E53
ALL
Ron Stygar
Carl Buckland
Dale Beuning
Forums
Help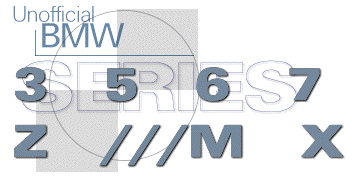 ---
Date: Fri, 19 Oct 2001 13:04:17 EDT
From: TFRM3_at_aol.com
Subject: Roll bars and Red Line Oil and patents

>From Jay Morris
ok guys, real quick:
I have bought roll cages for myself from Kirk Racing in Alabama, 205 608 1156 and have been very happy with them. I buy just the pre-bent bars, and weld it myself, so I cannot speak for their welding, but I hear from many non-welder types that it is very high quality. I will point out that I have all the tools and stuff needed to make rollcages within 20 feet of me, and I still order prebent tubing from Kirk. They make a bolt in rollbar for the e36 m3 that is $339, but if you tell the girl who answers the phone that you know me, she'll sell it for under $300. (erw tubing, dom is a bit more)
Second, regarding Red Line Oil, and Roy the Chemist in particular. There was some inference that because Roy doesn't have any patents, that he doesn't know what hes's doing. All I can say, (and I mean all I can say) is that the oil that Roy has made for our shocks is light years ahead of every other oil we've tested in terms of resistance to heat, lubricity, etc etc etc. You think to yourself "yeah but compared to what". We have tested every oil that we can get our hands on, worldwide, including several that are not even sold to anybody, just given to top teams ( network TV type teams). Heard a rumor that Amsoil had trick new oil for MX bikes? Bought it. Silkolene has new stuff for Penskes? stole it. etc etc. Bottom line: I like Roy and Tim and I don't care where they used to work because I used to work at a gas station.
Third. Patents? I have 2 and I don't think I would ever do it again. I have been ripped by some of the finest "Pacific Rim" companies in the world, and the time and money I spent on patent attornies would have been better spent playing hopscotch on a summer day.
Obligatory BMW list of possessions:
4 bmw motors, 2 bmws
3 chevy motors, 2 chevies
2 boat motors (SBC 400) , 1 boat
2 mazda motors, 1 mazda
2 buick motors, 2 buicks (thats more like it) 1 minivan motor, 1 minivan
1 pontiac GTO motor, no pontiac
Unofficial Homepages: [Home] [E12] [E24] [E28] [E30] [E34] [E36] [Z3] [E39] [E46] [X5/E53] [ALL] [ Help ]