Google Search

Search (Google!!)
Search Amazon.com
Home
E12
E24
E28
E30
E34
E36
Z3
E39
E46
X5/E53
ALL
Ron Stygar
Carl Buckland
Dale Beuning
Forums
Help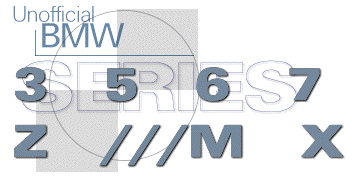 ---
---
From digest.v6.n678 Tue May 20 16:50:42 1997
From: Bing Fung <bingfung_at_getthe.net>
Date: Tue, 20 May 1997 05:49:20 -0700
Subject: Illuminated Shift Knob

I have recieved a lot of questions regarding this so I will write what I know.
Here is an item which does not make you car go any faster but BAYBY does it look good in your car! The illuminated leather shift knob comes with the M tri color stripes on the upper left corner of the shift pattern emblem so not only does it look good at night but by day as well. Funny thing when I bought my car(black on black), I kinda felt that the lower console area was dark feeling and thought, "gee the rest of the car is lit like an Xmas tree, an illuminated gear knob would finish it off". A few weeks later I picked up the new Original BMW Accessories Catalog(nice catalog by the way)from my local BMW dealer. I flip thought it droolin and all that and what do I find on page 47!!!!! wishes do come true.
The knob comes with a wire harness that plugs in to the dimmer switch of your car and is controled by it, nice setup. To remove your old shift knob, pull up on it firmly taking care not to hit yourself. I think there is only one screw to remove on the lower dash cover to access the dimmer switch. At any rate the instructions that come with it are good.
PN#s for M Leather Gear Knob(illuminated with emblem)
- E30 with integrated leather gaiter, pn# 25 11 2 231 562 $311.00 cdn
- E36&Compact with leather gaiter, pn# 25 11 9 402 855 $197.00 cdn
- E36,E34,E32 except E36 compact, Knob pn# 25 11 2 232 549 $143.50 cdn
Bing 92/325I
Unofficial Homepages: [Home] [E12] [E24] [E28] [E30] [E34] [E36] [Z3] [E39] [E46] [X5/E53] [ALL] [ Help ]