Home
E12
E24
E28
E30
E34
E36
Z3
E39
E46
X5/E53
ALL
Ron Stygar
Carl Buckland
Dale Beuning
Forums
Help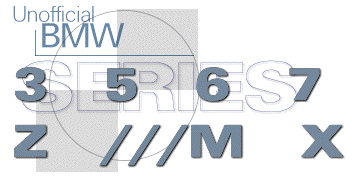 ---
---
---
From digest.v6.n456 Mon Mar 31 16:42:43 1997
From: BMW_at_comet.net (Phil Marx)
Date: Mon, 31 Mar 1997 12:00:38 -0500
Subject: re: BMW: Paint Source Needed

>From: EXLAXATC_at_aol.com
>I own a Seina Red R1100RT. I've never been "crazy" about the color but of the
>3 available in 96 it was the only one I could stand. Yesterday I saw a Mystic
>Red K1100RS and knew the instant I saw it that I had seen the color I would
>eventually paint my bike.
>
>According to my dealer it is nearly impossible to get BMW paint here in the
>US and if I could that I couldn't afford it. Has anybody had a positive
>experience matching BMW's colors with a paint available here in the US? Has
>anybody had good luck finding a paint that will resist chipping better than
>the stock paint? Maybe a 2-part paint with a clearcoat?
>Steve Heywood
Most BMW paints are 2-stage including the clearcoat. Even the blacks, whites and non-metallic reds on the cages are clearcoated. Mystic Red is color code #689 from BMW which I believe is actually Glasurit code #323 with clearcoat over it (#098 clear). Any paint shop can mix a color by that code. If you want original BMW paint use the Glasurit. The best result would probably come from picking your painter first and letting him/her use the brand (s)he is most familiar/comfortable with. Color matching won't be a problem either way.
Unofficial Homepages: [Home] [E12] [E24] [E28] [E30] [E34] [E36] [Z3] [E39] [E46] [X5/E53] [ALL] [ Help ]