Home
E12
E24
E28
E30
E34
E36
Z3
E39
E46
X5/E53
ALL
Ron Stygar
Carl Buckland
Dale Beuning
Forums
Help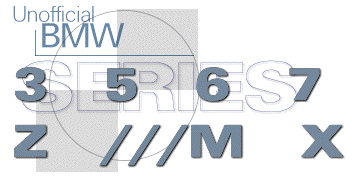 ---
---
From digest.v6.n228 Sun Feb 16 16:16:38 1997
From: Randy Hubbard <raceware_at_wwnet.com>
Date: Sun, 16 Feb 1997 13:29:06 -0500
Subject: Re: Torque Wrenches

Hi Michel, while you're entitled to your *opinion* on the subject of torque wrenches, your comments are riddled with inaccuracies...
In the past several months we've posted information that should be useful in determining a quality torque wrench from a "club". You may want to check the archives for these postings.
While in Germany last November, I noted that they re-calibrate "clicker style" torque devices at the German car factory production areas every few HOURS because they go out of calibration! ***
For your information, a Beam Style Torque Wrench is usually MUCH more accurate than traditional "clicker style" T/Wrenches... See the warranty and calibration specs that come with the tool, then review Hooke's Law for a better understanding of this subject.
While improper installation and poor quality tools do lead to mechanical problems, the BMW head bolt issue was simply a bolt problem, not an installation problem.
It's my opinion that anyone who owns a BMW probably has a better appreciation for quality and engineering than the average person looking for a "club". That's why as Engine Designers and German engine specialists we provide only true Aircraft Quality T/Wrenches for installation of our Aerospace fasteners. Info. available at our website if you're interested.
Regards,
On the 'Bahn,
Randy, a.k.a. BoltMeister
NEW** VW/Porsche/BMW Interest At: http://www.wwnet.com/~raceware **NEW
---
> From: Mpotheau_at_aol.com
> Date: Sat, 15 Feb 1997 21:39:11 -0500 (EST)
> Subject: <Tools>
> <SNIP>
> Torque wrenches-
> The click type torque wrench (sturtevant) is easiest to use and can easily go
> 10 years without re-calibration. For casual users this is the best bet.
> Again, this is something which for most people is a once in a lifetime
> investment. Snap On has one for about $200 which may seem like a lot of
> money. It will last as long as you do. Compare that $ to the price of a
> wheel which gets stressed and cracked at a drivers school. Not a bad return
> on investment. The pointer type torque wrench is a waste of money. You would
> be hard pressed to duplicate readings from one useage to another with this
> one. Only advantage is it won't get stolen at a drivers school.
> I will resist (almost) the comment about comparing used torque wrenches with
> used condoms. The saving of buying a used torque wrench, unless you know the
> owner, just isn't there. I have several which were bought as part of an
> auction lot, I will sell them for $1 ea (US) plus shipping. Also, when
> purchasing a torque wrench, make sure that service is available for it. Some
> fancy catalogs sell Facom tools, which are great, but do you want to go to
> Europe to have it calibrated? Mais oui, it justifies your next excellent
> European Vacation! Seriously, that's why you oughta buy domestic even if some
> imports look (and are) better. Can't help but wonder how much of the head
> bolt fiasco is due to inexperienced wrenches or low quality tools?
>
> Michel Potheau BMWCCA #0000002
> mpotheau_at_aol.com
>
> ------------------------------
Unofficial Homepages: [Home] [E12] [E24] [E28] [E30] [E34] [E36] [Z3] [E39] [E46] [X5/E53] [ALL] [ Help ]