Home
E12
E24
E28
E30
E34
E36
Z3
E39
E46
X5/E53
ALL
Ron Stygar
Carl Buckland
Dale Beuning
Forums
Help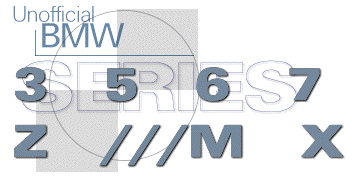 ---
---
From digest.v7.n873 Sun Jan 4 08:05:21 1998
From: "Brett Anderson" <bretta_at_BestWeb.net>
Date: Sun, 4 Jan 1998 00:47:31 -0500
Subject: Re: 95 M3 Throttle Cable Recall BA

> From: Rick & Lisa Westerfield <73237.2070_at_compuserve.com>
> Date: Sat, 3 Jan 1998 10:47:03 -0500
> Subject: 95 M3 Throttle Cable Recall
>
> Hello Everybody,
>
> Recently searching the National Highway Traffic Safety Administration
> web site (www.nhtsa.dot.gov), I found a recall for the 95 M3 that
> specifies that in October 97 a recall to upgrade a cruise control bushing
> on the throttle cable would commence. The NHTSA campaign ID number is
> 97V131000. The dealer here in Shreveport knows nothing about this for
my
> car and the alldata.com site does not list this recall either.
>
> Does anybody know if this is a valid recall? Thanks in advance for
the
> help.
>
> Rick Westerfield
> 73237.2070_at_compuserve.com
BMW SI bulletin 35 01 97 covers recall campaign 97V131. It consists of adding a wire clip to both the throttle and cruise cables where they enter the brackets on the throttle body.
The campaign covers most models from as far back as 4/88 production. It does not , however, cover the 95 M3 which used a different set of cables.
The situation is that there may be a breakage of the plastic bushing at the adjusting screw near the throttle housing, due to environmental influences coupled with vibration ( not to mention techs with big hands ) The result is that there is a VERY SLIGHT chance that the end of the cable, usually cruise, can become caught on the edge of the broken bushing causing a higher than normal idle speed.
Check with your dealer to see if your car is effected. You should get a letter in the mail if you are on file with BMW as the vehicles owner. The fix is obviously free and takes less than half an hour.
Note that if your cables have been replaced, they may not need the update, also, if your cables were replaced as a result of the broken bushing, BMW will reimburse you for a customer pay repair provided you can supply a repair order detailing the complaint and repair.
Brett Anderson
BMW and ASE Master Technician
http://www.bestweb.net/~bretta/
Unofficial Homepages: [Home] [E12] [E24] [E28] [E30] [E34] [E36] [Z3] [E39] [E46] [X5/E53] [ALL] [ Help ]