Home
E12
E24
E28
E30
E34
E36
Z3
E39
E46
X5/E53
ALL
Ron Stygar
Carl Buckland
Dale Beuning
Forums
Help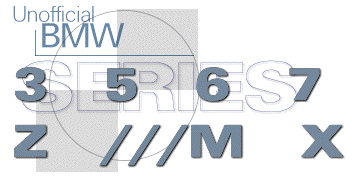 ---
---
From digest.v6.n882 Tue Jul 15 04:42:23 1997
From: Don Eilenberger <deilenberger_at_monmouth.com>
Date: Mon, 14 Jul 1997 22:30:38 -0400
Subject: RE: Oil Light <E28 I assume>

>From: "Dale Howard" <dwh_at_lbbc.lb.com>
>Date: Mon, 14 Jul 1997 07:45:31 +0000
>Subject: oil light
>
>The oil light on my 535 came on this morning even though the oil
>level is correct. This only happens when the car is idling. Anyone
>have any idea what the problem might be??
>
>Thanks,
>Dale
Dale, replace the oil sender. You'll find it on the drivers side of the engine, high up on the head, at the very rear. Has one wire coming outta it. They go bad. They leak. When you pull the lead off it you'll prolly find oil under the protective boot.
Volkswagon ones fit/work just fine.. (you want one off an air-cooled VW) if you can't find the official leaky BMW part. Most auto parts stores can help you out.
If it isn't this - you've got deeper problems. (I'm assuming you mean the oil pressure light on the dash - not the oil level light on the overhead console.. different beast altogether).
---
Don Eilenberger
Spring Lk Hts, NJ, USA
deilenberger_at_monmouth.com
---
Unofficial Homepages: [Home] [E12] [E24] [E28] [E30] [E34] [E36] [Z3] [E39] [E46] [X5/E53] [ALL] [ Help ]