Home
E12
E24
E28
E30
E34
E36
Z3
E39
E46
X5/E53
ALL
Ron Stygar
Carl Buckland
Dale Beuning
Forums
Help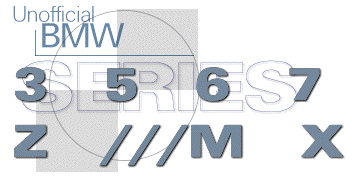 ---
---
From digest.v6.n518 Sat Apr 12 13:19:01 1997
From: Randy Hubbard <raceware_at_wwnet.com>
Date: Sat, 12 Apr 1997 02:09:12 -0400
Subject: Re: Oil Change Interval

FWIW,
Everyone has an *opinion* on oil and maintenance intervals. It amazes me that consumers somehow feel they have more expertise on the subject than the engineers who design and produce our wonderful cars, yet the lubrication engineers test this stuff everyday...
Now days you no longer need to rely on opinions, old wives tales, and dated info. You can have your engine oil analysed for a very small fee, and these tests are quite accurate and should relieve any doubt regarding the condition of the oil in YOUR particular vehicle.
There are numerous oil test labs that conduct SAE tests for viscosity, rare metals, contaminants, water, anti-freeze, TBN, etc. that will clearly indicate if the oil has deteriorated, or if it is safe for continued use. This also gives you a running account of wear and dirt so you can spot any potentially damaging conditions such as air filter leaks allowing dust to enter, etc. Tests can also indicate head gasket leaks etc., so they are quite useful.
Some of the labs who perform these tests for $15-$25. per test are listed below. While changing the oil could cost about the same in some applications as the cost of oil analysis, you would not have the information contained in the test to prevent premature engine problems. I have no affiliation with any of the following labs, but have used all of them with satisfaction for oil analysis on my numerous vehicles.
YMMV!
Analysts Inc.
3075 Corners North Court NW
Norcross, GA 30091-5000
(800) 241-6315, (770) 448-5235
FAX (770) 448-5918
Titan Labs
1380 Zuni Street
PO Box 40567
Denver, CO 40567
(800) 848-4826, (303) 893-3211
FAX (303) 595-8741
TRX Maintenance Analysis
18419 Euclid Ave.
Cleveland, OH 44112-1016
(800) 726-5400
FAX (216) 383-9633
Regards,
On the 'Bahn,
Randy, a.k.a. BoltMeister
NEW** BVW/Porsche/VW Interest At: http://www.wwnet.com/~raceware **NEW
> From: ker_win_at_juno.com (Kerwin M Ronquillo)
> Date: Thu, 10 Apr 1997 23:35:36 PST
> Subject: Re: Oil change on new BMW
>
> I've talked to about 4 BMW service consultants and they all say to wait
> for the Service indicator meaning when your Inspection I comes up. This
> will include the oil change. This would be around every 7-10k miles
> depending on how you drive your car. According to them, many BMW
> owners do change oil in between inspections. I guess around 4-5k miles.
> If you do wait to change your oil at 10k, if you ever see the oil they
> take out from your car, you won't ever wait that long again. I suggest
> to change your oil in the middle of your Service Indicator cycle. When
> you see half the green squares gone, that will be a good time to change
> your oil. They will not reset the Service Indicator of course.
> Besides, I've never heard of an engine blowing up due to too many oil
> changes.
>
> Regards,
> Kerwin
> 328i
>
> ------------------------------
Unofficial Homepages: [Home] [E12] [E24] [E28] [E30] [E34] [E36] [Z3] [E39] [E46] [X5/E53] [ALL] [ Help ]