Home
E12
E24
E28
E30
E34
E36
Z3
E39
E46
X5/E53
ALL
Ron Stygar
Carl Buckland
Dale Beuning
Forums
Help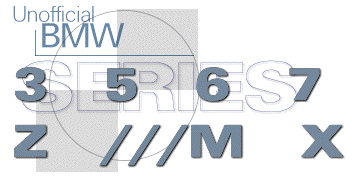 ---
---
From digest.v6.n767 Fri Jun 13 10:14:29 1997
From: Richard Biscevic <rbiscevi_at_clarify.com>
Date: Thu, 12 Jun 1997 16:04:37 -0700
Subject: RE: E36 M3 Oil Analysis

4.0.994.63

All-
I've included a post from Brendon Whateley below which shows ranges for metal counts (thanks Brendon).
After seeing how high my lead count is, I called around to determine where the lead could be coming from. There are no engine parts in the E36 M3's engine that are lead (some diesels have lead in the bearings).
So what's the source?? OCTANE BOOSTER. Don't use that stuff. As of 1/2 hour ago, I don't. Talk about leaving lead deposits...!!
Hope this helps...
>----------
>From: Brendon Whateley[SMTP:brendon_at_tibco.com]
>Sent: Thursday, June 12, 1997 2:26 PM
>To: Richard Biscevic
>Subject: Your oil...
>
>Richard,
>
>First my most recent oil test results: 96' E36 M3 this test from about 9000
>miles total, with around 8000 miles since the previous change.
>(The 18000 mile test is not back yet.) I changed the oil at the end
>of the break in period and again when the indicator lights asked at a little
>over 9000 miles. (If people are interested, I'll post the results from
>the 18k change)
>Most of the oil was Valvoline 15W40.
>
>Thing PPM Normal Abnormal Excessive Richards Results
>-----------------------------------------------------------------


>Iron:       26     5/25    350       500         6.5

>Chromium:   0      5/20    25        40          1.4
>Lead:       12     30      70        150         4625
>Copper:     31     5/30    100       300         4.9
>Tin:        0      20      30        40
>Aluminum:   12     5/20    30        40          1.4
>Nickel:     0      5       10        15          1.3
>Silver:     0      3       10        30          0.1
>Manganese:  0      -       -         -
>Silicon:    16     20      30        40          3.7
>Boron:      5      -       -         -
>Sodium:     424    20      100       150
>Magnesium:  497    -       -         -           0.3
>Calcium:    914    -       -         -
>Barium:     0      -       -         -
>Phosphorus: 1085   -       -         -
>Zinc:       1409   -       -         -
>Molybdenum: 0      -       -         -
>Titanium:   0      -       -         -
>Vanadium:   0      -       -         -
>Potassium:  0      -       -         -
>
>% Fuel      <1     2%      4%        6%

Deleted 38 quoted line(s) ------
Unofficial Homepages: [Home] [E12] [E24] [E28] [E30] [E34] [E36] [Z3] [E39] [E46] [X5/E53] [ALL] [ Help ]