Home
E12
E24
E28
E30
E34
E36
Z3
E39
E46
X5/E53
ALL
Ron Stygar
Carl Buckland
Dale Beuning
Forums
Help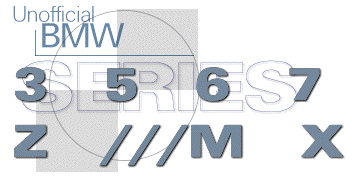 ---
---
From digest.v4.n776 Wed Jun 26 17:49:02 1996
From: "Harvey Chao" <Harvey_Chao_at_smtp.svl.trw.com>
Date: 26 Jun 1996 14:55:40 -0700
Subject: M20 Cylinder Head Bolts

Ref. Previous list discussions about replacement of old style hex head bolts with Torx head bolts on all M20 engines (Produced through 3/89)
There have been several recent posts about replacement head bolts on 2.7L engines used in E28 and E30 engines. I have been trying to track down official info on this and several of you have contributed with accurate information. One of you did also request, if I located Official info to pass it on to him, so here it is.
The local dealer was unable to find such a bulletin in their files. They were, however, able to confirm that yes, there is a problem, yes they do recommend the replacement, yes, whenever a car comes in for service with the old bolts and they become aware of it, the do recommend replacement . . .
I called BMW NA and they were unable to identify this bulletin based on my input of the nature/subject and approximate release date.
BMW NA refered me to another organization who they said would identify and send me the bulletin. This outfit (Central Letter Shop, although sending me several service bulletins was not able to provide the specific info. requested.
Thus, by going through official BMW channels, such a bulletin does not appear to exist.
I have managed to obtain a copy of Bulletin 11 03 90 (3044) from an independent source.
Without typing the bulletin in it's entirity, the information is as follows:
Group 11 Engine
Bulletin No. 11 03 90 (3044)
Woodcliff Lake NJ Oct '90 Service Engineering This service information bulletin supersedes S.I. 11 03 90 (3044 dated April '90). It incorporates warranty information.
New Cylinder Head Bolt
All M20 Engines (produced through 3/89)
An improved cylinder head bolt has been introduced for use in the M20 eignine. The new head bolt designated ASA 14, is grade 10.9 and is identifiedy by the Torx head and a black surface finish. The ASA 14 bolt has been used in production as of April 1989.
Whenever engine repairs necessitate cylinder head removal, all 14 old style head bolts should be replaced with the ASA 14 bolts.
Further, in instances of head bolt damage (e.g. head broken off) all 14 head bolts shoud be replaced one by one without removing the cylinder head.
Revised Torque Angle method of installation is as described in Bently, Torque to 30 N-m (22 ft.lbs.), torque angle all bolts 90 degrees, torque angle all bolts 90 degrees, waiting and running time requirements no longer used. Bolts should be clean and lightly lubricated with oil. all bolts should thread into the block by hand. Bolts which cannot be threaded in easily shoudlbe examined and the corresponding threaded bore must be cleaned.
Revised torque angle values can be found in Tehcnical Data fische #4 dated 9/89
Under no circumstances shoudl the old and new head bolts be mixed in one engine.
Part Number of new bolts is: 11 121 726 478 - head bolt - is a set of 14 pieces/bolts.
Parts and labor reimbursable under the provisions of the BMW New Car Limited Warranty. (Which I guess means that all of us'ns is now on our own on this now. A set of bolts with BMW CCA discount cost me $30. An independent mechanic estimated 1 hr labor to install. I will have it done next week when I get annual service and a valve adjustment at my independent mechanic)
Unofficial Homepages: [Home] [E12] [E24] [E28] [E30] [E34] [E36] [Z3] [E39] [E46] [X5/E53] [ALL] [ Help ]