Home
E12
E24
E28
E30
E34
E36
Z3
E39
E46
X5/E53
ALL
Ron Stygar
Carl Buckland
Dale Beuning
Forums
Help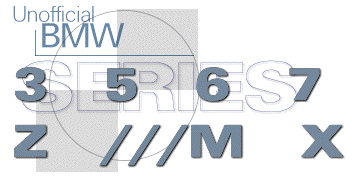 ---
---
From digest.v7.n561 Sun Nov 9 17:07:25 1997
From: Tom Tcimpidis <tgt_at_akamail.com>
Date: Sun, 09 Nov 1997 08:03:50 -0800
Subject: Re: Jim C Chip/CA Smog & insurance costs

--------------505796B74E7C4DBBD70C7237
> Ok, I put the chip in. Based on all the disclaimers regarding CA
> emissions I assume I won't pass no how no way the CA smog test without
> replacing my old chip? Any feedback?
I have a 95 M3 with Jim's chip and it bases the CA smog tests with flying colors. Since it just an idle and fast idle (2500 rpm) test, I suspect that the valuse are the same or close enough to the same in both chips as to have no effects on emmissions on that test. On a load test (240 or 241 test), it MIGHT be a different deal but I suspect that it would pass even that since it is still relatively lightly loaded...
Since we were also taking insurance, I pay about $1,210 a year for full coverage with a $500 deductable through State Farm. It is rated as my second vehicle.
--------------505796B74E7C4DBBD70C7237

begin:          vcard
fn:             Tom Tcimpidis
n:              Tcimpidis;Tom
org:            TGT Technologies, Inc. 
email;internet: tgt_at_akamail.com
note:           ICQ#: 4691098

x-mozilla-cpt: ;0
x-mozilla-html: TRUE

version:        2.1
end:            vcard

--------------505796B74E7C4DBBD70C7237--
Unofficial Homepages: [Home] [E12] [E24] [E28] [E30] [E34] [E36] [Z3] [E39] [E46] [X5/E53] [ALL] [ Help ]