Google Search

Search (Google!!)
Search Amazon.com
Home
E12
E24
E28
E30
E34
E36
Z3
E39
E46
X5/E53
ALL
Ron Stygar
Carl Buckland
Dale Beuning
Forums
Help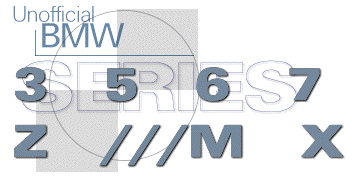 ---
---
From digest.v7.n1856 Wed Jun 10 15:47:14 1998
From: "Steve D'Gerolamo" <steved3_at_idt.net>
Date: Wed, 10 Jun 1998 13:39:10 -0400
Subject: Fan Clutch
From: Gary Hutchison <sasghk_at_unx.sas.com>
Date: Wed, 10 Jun 1998 09:19:02 -0400 (EDT)
Subject: <E34> Coolant fan clutch
Is it normal to be able to stop the coolant fan by hand at any engine operating temperature? I can stop the fan and even race the engine while holding the fan. Does this indicate a worn fan clutch? Does anyone out there have a used (working) clutch they are willing to part with?
'90 535i (HOT version)
---
You can stop the fan clutch when its cold with your hands but once it heats up and grabs, it can be a little painful to do so if its in good working condition. You'll hear the fan noise change pitch when it starts to grab and you should be able to feel the air movement about 24" from the clutch. If you're replacing these, I'd recommend the Behr over the Sachs fan clutches. I've had fewer problems with Behr and they are the brand used by the factory. Sd
---
Steve D'Gerolamo - The Ultimate Garage
201-262-0412 / steved3_at_idt.net / http://www.ultimategarage.com

Unofficial Homepages: [Home] [E12] [E24] [E28] [E30] [E34] [E36] [Z3] [E39] [E46] [X5/E53] [ALL] [ Help ]