Home
E12
E24
E28
E30
E34
E36
Z3
E39
E46
X5/E53
ALL
Ron Stygar
Carl Buckland
Dale Beuning
Forums
Help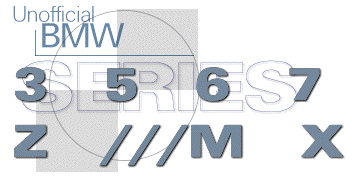 ---
---
From: Michael Wilkens <wilkens at wembley>
Date: Sat, 25 Jul 1998 16:39:01 PDT
Subject: New 3 has synthetic initial fill, according to BMWUSA

BMW NA has updated their website (www.bmwusa.com) with info on the new 3 series. In the "car care" section, BMW now sells a BMW brand synthetic oil:

"
Specifically, BMW Longlife Synthetic Oil is a premium, 100% synthetic formula oil providing the following advantages over standard oils:
- Greater high temperature protection
- Easier cold weather starts
- Enhanced wear and deposit protection
- Ideal for luxury vehicles and high performance vehicles
- Meets all requirements of ACEA A3/B3
A required oil for all 1999 BMW 3 series sedans
All new 3 Series sedans come from the factory filled with BMW Longlife Synthetic Oil. And for good reason. Their new engines are designed for the longer oil service intervals - up to 15,000 miles, depending on engine operating conditions - that require an oil meeting the superior performance standards of BMW Synthetic Longlife Oil.
BMW Synthetic Longlife Oil is available through BMW centers nationwide. Should you need to add oil and BMW Longlife Synthetic Oil is unavailable, you may top up with small amounts of synthetic oil meeting the requirements of API Service SH or higher, such as Mobil 1 or Valvoline SynPower 5W-40. "
Mike W.
---
Unofficial Homepages: [Home] [E12] [E24] [E28] [E30] [E34] [E36] [Z3] [E39] [E46] [X5/E53] [ALL] [ Help ]