Home
E12
E24
E28
E30
E34
E36
Z3
E39
E46
X5/E53
ALL
Ron Stygar
Carl Buckland
Dale Beuning
Forums
Help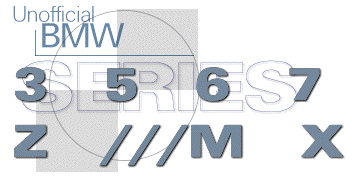 ---
---
From <_at_splinter.boeing.com,_at_triton.ca.boeing.com:txh9383_at_r757x53.ca.boeing.com> Tue May 6 16:34:55 1997
id QAA20099; Tue, 6 May 1997 16:33:54 -0700
(1.37.109.16/16.2) id AA093801389; Tue, 6 May 1997 16:29:49 -0700
id AA68168; Tue, 6 May 97 16:33:53 -0700
id AA19673; Tue, 6 May 1997 16:21:18 -0700
From: txh9383_at_r757x53.ca.boeing.com (Tam Ha)
To: <_at_triton.ca.boeing.com:dale_at_unofficialbmw.com>
Subject: K&N FILTER KIT VS DROP-IN FILTER
Date: Tue, 06 May 97 16:21:18 -0800

Hi Dale,
These are the replies I got concerning the above subject. I've talked to a friend of mine who used a K&N filter kit on his CIVIC SI and he said that it's definitely better than stock...but on the highway it can be fairly noisy. Horsepower wise, he didn't notice that much difference. And then again...It's a Honda not a BMW ...
>From my own research, I've decided to use the drop-in K&N filter over the
cone because horsepower gain is too minimal (about 2 hp) to justify the extra cost $200 vs $40. The difference I spent it on Jim C chip.
GOOD LUCK IN YOUR DECISION and read on it'll definitely help you to decide.
Tam From: Rodd Sidney <bmwrodd_at_poboxes.com>
Subject: K & N Induction Kits

Visit our WebPage for the BEST prices on K & N DirectFlo Induction kits. We've sold over 200 last year w/ no complaints & many re-orders. Look under product catalog section.
---

Rodd Sidney                 All BMW Discount Parts Web Page
bmwrodd_at_poboxes.com                  http://lochnet.com/bmw

Orderline 800-203-2071 Fax 915-599-8782 Intl 915-590-7770 From: Joe Marko <joe_at_hms-motorsport.com>
To: "'txh9383_at_r757x53.ca.boeing.com'" <txh9383_at_r757x53.ca.boeing.com>
Subject: K&N
Date: Thu, 24 Apr 1997 21:59:01 -0400

Tam,
Unless you find some way to direct a lot of cold air to the K&N Cone = type filter kit you will lose HP over at stock filter!
The replacement filter which we sell for $39.95 will gain you HP = depending on your exact car. It can be as much as 8 hp in an E36 M3 when = a little plastic baffle is also removed.
The cone filter sucks up hot air from the engine which defeats the = advantage of the greater air flow. Less cold air gives you more HP than = more hot air.=20
We have tested this extensively on our DynoJet Chassis Dyno in our shop.
In exchange for the info (and savings lest you by the cone filter setup = for $200) we would be happy to sell you the filter for $39.95 plus a = very reasonable shipping charge. We have them in stock. Just send us = your snail mail address and a phone number and time that we can contact = you tomorrow and we will have it out the same day.
Good luck,
Joe Marko
HMS motorsport
617-631-2269
PS Check out our Web site_at_http://www.hms-motorsport.com From: Blair Hartsfield <bhartsfi_at_telecom.sna.samsung.com>
To: "'txh9383_at_r757x53.ca.boeing.com'" <txh9383_at_r757x53.ca.boeing.com>
Subject: K&N
Date: Fri, 25 Apr 1997 09:16:22 -0500

Hi Tam,
For the exact same $40 as the drop-in, you can order (from any local high performance shop) a 6 in diameter by 9 in long K&N filter with the correct opening to fit the intake opening. You will have to fabricate a mount for the front of the filter. The filter has a screw on the front already, just have to make a bracket from the screw to a point in the intake area (fender wall, cruise control mount is where mine is). Takes a little patience, and diligence to make it look good. Any serious do it yourselfer type should be able to handle this. Mine has passed tech at BMW, Porsche, etc driving events with no problems.
Sounds nice. Kinda Italian engine sounding. "Seems" to add the hp in the upper mid range of rpm, mostly in 3rd and 4th gear. Nothing on low end. I have done this for two 95 M3s, and two VWs. There was a thread about doing this a while back (maybe six months to a year).
BTW, some people think that K&N filters do more harm to the engine than the horsepower is worth. Something about a paper filter is 99% efficient and the K&N is only 98.5% efficient. Whatever.....
Let me know if you want more details, etc...
blair hartsfield
Lone Star Chapter BMW CCA
Driving Event Coordinator
95 M3
Unofficial Homepages: [Home] [E12] [E24] [E28] [E30] [E34] [E36] [Z3] [E39] [E46] [X5/E53] [ALL] [ Help ]