Home
E12
E24
E28
E30
E34
E36
Z3
E39
E46
X5/E53
ALL
Ron Stygar
Carl Buckland
Dale Beuning
Forums
Help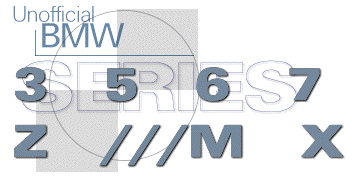 ---
From digest.v7.n1001 Thu Jan 22 16:34:09 1998
From: "Barber,Ray E" <Ray.E.Barber_at_kp.org>
Date: Thu, 22 Jan 1998 11:01:44 -0800
Subject: re: Ireland Engineering

--------------- Original Message -----------------------
From: Lowell Seaton <SEATON.LOWELL_at_epamail.epa.gov <mailto:SEATON.LOWELL_at_epamail.epa.gov> >

                Date:   Wed, 21 Jan 1998 16:18:15 -0500
                Subject:        Ireland Engineering

                Has anybody done business with Ireland Engineering?

I've seen several testimonials criticizing/praising Rodd Sidney. How about a few posts (good/bad/indifferent) describing experiences with Jeff Ireland and Ireland Engineering?
As far as I can tell, Ireland Engineering is the only paying commercial interest supporting the BMW Digest. Doesn't seem fair to me that a nonsupporting entity is getting so much air time and apparently business. I would hate to see Ireland Engineering quit supporting the BMW Digest with paid ads because of lack of response. I am sure Richard Welty incurs some overhead expenses producing the BMW Digest.
I checked out Ireland Engineering's web page - www.bmw2002.com <http://www.bmw2002.com> . Very nice. Simple, loads quickly, prices listed with each item, informative (check out Jeff's recommended mods for a 2002), professional. It even has hot links to the BMW CCA home page and something called VARA - Vintage Auto Racing Association. The URL site for BMW CCA is out of date but I e-mailed Jeff the new URL site so that should be fixed.
Unfortunately for me, Ireland Engineering specializes in 2002 and E30 models. Anybody with a 2002 or E30 might want to give Jeff Ireland a call. His prices seem low but I probably am not a good judge. Everything seems cheap compared to parts for my E36 M3. Ireland Engineering is located in Duarte, California (Los Angeles).
Ireland Engineering also has an ad on page 118 of the January Roundel. He supports the BMW CCA too with money. Seems like a straight up guy. Hey, I might even buy a 2002 brake rotor to hang up in my garage!

                Lowell Seaton
                '95 M3
                BMW CCA #131505
                Lone Star Chapter
                Dallas, Texas

I have had great service and advice from Jeff at Ireland Engineering. He is a straight up guy with a no-nonsense approach and experience doing what he does. Yes, they started RACING 2002's and E30's, but they are expanding their scope and can work with just about any BMW you throw their way. They KNOW suspensions and can give you the skinny on about any setup.
I live in Los Angeles and decided to call him in December after seeing his ad in Grassroots Motorsports. I needed to replace my 3.25 non-LS differential with a 3.45 LS I had just had built. When I went to his shop, I talked with Matt, a BMW Master Tech, about the car, suspension, and replacing the diff. In the course of our discussion, I opened the hood. The first thing he looked at was my lower radiator hose and pointed out that the fan belt had cut a ridge into the hose (see my post about this from two weeks ago). He knew what he was talking about and had the experience to notice things on my E28. They replaced my diff for $150 (CHEAP), noticed and replaced my bad driveshaft center bearing and a bad CV Joint, and fixed a couple other minor problems for free. When I went to pick up the car, Matt had made a list of a few other minor things he had noticed, including an exhaust leak from my new exhaust.
Ireland Engineering supports the Digest and the CCA, but doesn't post to the Digest (a pity, I believe). From my conversations and experience, I feel confident enough to call them with just about any problem on about any BMW and know I will get a straight answer and good advice.
Is that enough endorsement?
Ray Barber
'83 533i/3.5L Euro enhanced
Los Angeles Chapter
(626) 405-3194
Internet: ray.e.barber_at_kp.org
Unofficial Homepages: [Home] [E12] [E24] [E28] [E30] [E34] [E36] [Z3] [E39] [E46] [X5/E53] [ALL] [ Help ]