Home
E12
E24
E28
E30
E34
E36
Z3
E39
E46
X5/E53
ALL
Ron Stygar
Carl Buckland
Dale Beuning
Forums
Help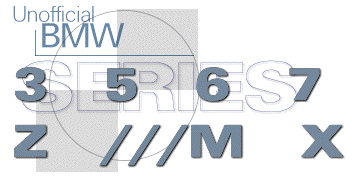 ---
---
From digest.v7.n835 Sat Dec 27 22:38:11 1997
From: "Brett Anderson" <bretta_at_BestWeb.net>
Date: Sat, 27 Dec 1997 20:01:32 -0500
Subject: Re:<ALL> PPPP Code on OBC=Replace OBC for $925?! BA

> From: RDVNAC <RDVNAC_at_aol.com>
> Date: Sat, 27 Dec 1997 08:11:49 EST
> Subject: <ALL> PPPP Code on OBC=Replace OBC for $925?!
>
> The on-board informational computer on my '88 535i will show only "PPPP"
> instead of numbers on the display, and sometimes reverts back to German
> categories (e.g., uhr instead of hour).
>
> My dealer says that this PPPP code means "an internal short in the
computer"
> and that the only remedy is a replacement at a cost of $925 (including
> installation). HELP??!! Is this truly my only solution? And if do,
anybody
> know a cheaper source for the part?
>
> ANY help _greatly_ appreciated.
>
> TIA,
>
> Bob DiLeonardi
> BMW CCA
> '88 535i
> '86 528e
> Rescuer of E28s
PPPP means you have a coding problem, try another dealer, have them check the instrument cluster, and if necessary, I would be looking for a coding plug to try before replacing the OBC.
All this said, it is certainly possible that they are correct
Brett Anderson
BMW and ASE Master Technician
http://www.bestweb.net/~bretta/
Unofficial Homepages: [Home] [E12] [E24] [E28] [E30] [E34] [E36] [Z3] [E39] [E46] [X5/E53] [ALL] [ Help ]