Home
E12
E24
E28
E30
E34
E36
Z3
E39
E46
X5/E53
ALL
Ron Stygar
Carl Buckland
Dale Beuning
Forums
Help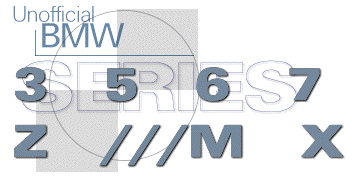 ---
---
From digest.v7.n440 Tue Oct 14 23:12:01 1997
From: Jim Cash <j.cash_at_sympatico.ca>
Date: Tue, 14 Oct 1997 22:09:45 -0400
Subject: Re: leaking fuel tank and fuel guestions

Reza Taheri sends me back to the book after I wrote: >
> > Again not sure how your computer works but the newer ones always
> > give the remaining range based on the average fuel consumption in the
> > previous 15 minutes of operation - so the result varies depending on how
> > you have just been driving.
>
> Hi Jim,
> are you sure about the 15 minutes for the E39? I thought it simply
> multiplied the gallons left in the tank by the MPG counter, which is
> calculated over the whole interval since the last reset. No?
> Reza Taheri
> rtaheri_at_cup.hp.com
> (408)447-0013
Reza
Well that will teach me to work from memory.
Actually the estimated remaining "cruising range" for the E39 is based on the average fuel consumption over the last 18 miles / 30 kms, and the amount of fuel remaining.
So it is not 15 minutes, but it is also not the "whole interval since last reset"
I mistakenly used the time period of 15 minutes that the OBC uses for establishing the average speed it uses when calculating "distance remaining to destination". It always uses the average speed in the previous 15 minutes.
Sorry - and thanks for catching that one.
Cheers
Jim Cash
Unofficial Homepages: [Home] [E12] [E24] [E28] [E30] [E34] [E36] [Z3] [E39] [E46] [X5/E53] [ALL] [ Help ]