Home
E12
E24
E28
E30
E34
E36
Z3
E39
E46
X5/E53
ALL
Ron Stygar
Carl Buckland
Dale Beuning
Forums
Help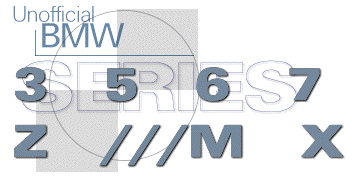 ---
From: Ron Stygar <RonStygar_at_aol.com>
To: dale_at_unofficialbmw.com
Subject: <all> Let's find the switches in the dark
Date: Thursday, 17 Feb 2000


Lighted switches let you find them easily in the dark. With the stock switches in many cases you get an indication that the switch function is on by a second light in the instrument console or by seeing the function caused by the switch, happen.

I found some nice LED lighted switches at Mouser 1-800-346-6873 (www.mouser.com) that are available in all forms and in several colors. They are available in round or square shapes. They are manufactured by Mountain Switch. I prefer the round ones because they are always lined up. The design current for the LED in these switches is 20 ma which is limited by the value of resistor that you install in series with the LED. They have a maximum current of 25 ma. You adjust the brightness of the LED by changing the value of the in series resistor. The LED's in the switches are also replaceable. The switch contact rating is 3 Ampere.

The first picture shows a switch wired so that you can find it in the dark. This method is used when you can see the result of pushing the switch. One example would be momentary switches to open your garage doors. Another is switching between the V1 main module being lit to the remote display being lit. I found that by killing the power to the remote unit, moved the display lights back to the main unit.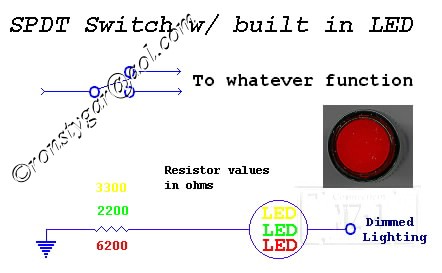 This picture shows a switch wired so that when the function is energized the lighted switch gets brighter so that you know this. An example of this would be rear fog lights. The second pole of this switch shorts out one of the in series resistors and the LED gets brighter. You adjust the ratio of these resistors to your liking keeping in mind not to exceed the 20 ma spec. Note that both of these resistors add up to the value of the single resistor used for the find it in the dark switch. This is so that they match in brightness.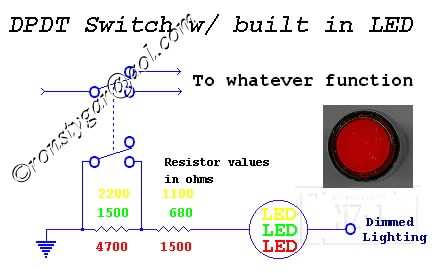 This picture shows a pair of switches mounted in the Z3 fog light switch blank.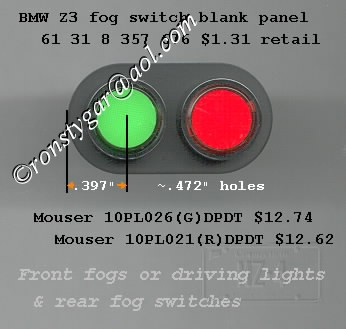 This picture shows the switches I added.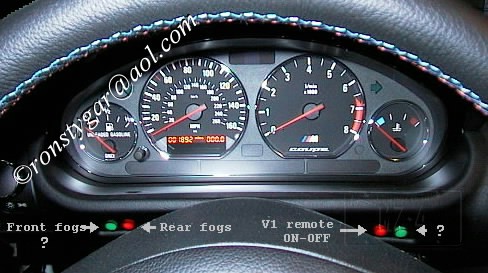 This picture shows the switches in the dark before I matched the red to the green brightness.
The following shows the dimensions and part numbers for the various switches.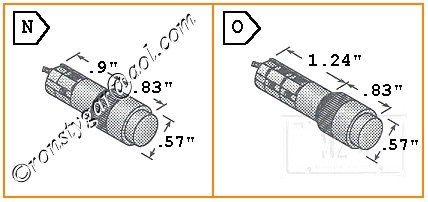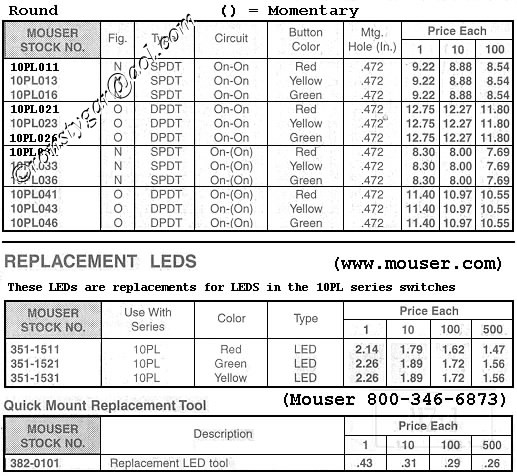 Ron_at_unofficialbmw.com, FLI BMW, FLY BMW, Marlborough, CT
http://www.unofficialbmw.com/ronstygar.html
Unofficial RS/SS bender/shortener/installer +

Unofficial Homepages: [Home] [E12] [E24] [E28] [E30] [E34] [E36] [Z3] [E39] [E46] [X5/E53] [ALL] [ Help ]