Home
E12
E24
E28
E30
E34
E36
Z3
E39
E46
X5/E53
ALL
Ron Stygar
Carl Buckland
Dale Beuning
Forums
Help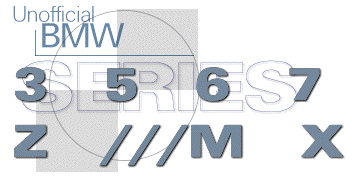 ---
Date: Fri, 30 Nov 2001 06:59:52 -0800 (PST)
From: Matt Henson <hensonator_at_yahoo.com>
Subject: Re: [E36M3] Interstate Battery #?

I guess that everyone's batteries are dying these days.. I called Interstate and they have 2 batteries that will fit the M3.. a MTP-91, which is a standard group 48/91 (smaller than stock) and MB66-60, which I presume is the same as a group 92, which would be the same size as stock. I opted for a group 48/91 since I live in TX and would rather save 10lbs than have an extra 50 CCAs.
You can also get the exide 48/91 which has 60M warranty and has the vent on the correct side of the battery. It's about $10 cheaper than the Interstate.
BTW, my old battery was the original and lasted from 4/94 until this week. Pretty good, eh? -Matt
---
From: dale_at_unofficialbmw.com
Subject: more info on Interstate batteries
Use Interstate's website to find the specific battery they recommend for your model BMW: http://www.interstatebatteries.com/estore/search.asp?N=21+4294574641&Ntx=&Ntk=&Ntt=&Ns=product+Type%7c0||Rank|1&Nu=Part+Number&js=1
Here is a list of Interstate's Automotive batteries, http://www.interstatebatteries.com/www_2001/content/products/product_auto.asp
BMWs tend to the following guideline for batteries in the USA

         BCI Grp #   Interstate Type     CCA*  CA/      RC   Warranty  Dimensions (inches) 
                                               MCA**  (Min.) (Months)   L  x  W  x  H
E30 4cyl Group 47     [MT-47]            590    740     85      75      9-5/8 x 6-7/8 x 7

All 6cyl Group 48(91) [MT-48]            550    690     96      75      11-3/8 x 6-7/8 x 7-1/5
                      [MB66-60]          550    690     96      60      11-3/8 x 6-7/8 x 7-1/5
         Group 91(48) [MTP-91]           700    875     120     85      11-3/8 x 6-7/8 x 7-1/5

All 8cyl Group 49(93) [MT-49]            750    940     130     75      14-3/8 x 6-7/8 x 7-1/5
                      [MB88-60]          750    940     130     60      14-3/8 x 6-7/8 x 7-1/5
         Group 93(49) [MPT-93]           850    1065    155     85      14-3/8 x 6-7/8 x 7-1/5

MT-42 [example: 1984 BMW 318i(alternate)] Pro-rata warranty: 75 months

Weight:       28 pounds
Length:       9.63 inches
Width:        7 inches
Height:       6.75 inches
Cranking Amps:      565
Cold Cranking Amps:     450
Voltage:        12

MT-47 [examples: 1984 BMW 325e(alternate)]

Pro-rata warranty:      75 months
Weight:         30 pounds
Length:         9.63 inches
Width:          6.88 inches
Height:         7 inches
Cranking Amps:  740
Cold Cranking Amps:     590
Voltage:        12

MTP-91 [examples: 1995 BMW 318i and 1990 BMW 325i and 1991 BMW 318i and 2001 Z3 (all)] Pro-rata warranty: 85 months

Weight:       38.80 pounds
Length:       11.38 inches
Width:        6.88 inches
Height:       6.88 inches
Cranking Amps:      875
Cold Cranking Amps: 700
Voltage:        12

MTP-93 [example: 1995 BMW 325i (optional battery) and 2001 BMW X5 4.4l and 2001 BMW 540i and 2005 BMW X5 4.4]

Pro-rata warranty:      85 months
Weight:         48 pounds
Length:         14.38 inches
Width:          6.88 inches
Height:         6.88 inches
Cranking Amps:  1000
Cold Cranking Amps:     850
Voltage:        12

Unofficial Homepages: [Home] [E12] [E24] [E28] [E30] [E34] [E36] [Z3] [E39] [E46] [X5/E53] [ALL] [ Help ]