Home
E12
E24
E28
E30
E34
E36
Z3
E39
E46
X5/E53
ALL
Ron Stygar
Carl Buckland
Dale Beuning
Forums
Help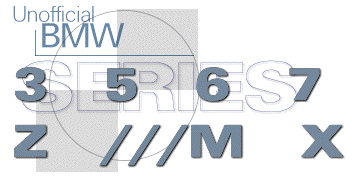 ---
---
From digest.v6.n576 Thu May 1 14:21:52 1997
From: Christopher Pawlowicz <chrisp_at_doe.carleton.ca>
Date: Thu, 24 Apr 1997 08:50:36 -0400
Subject: <E30> re: obc retrofit

Scott Miller asks
>I had the OBC in my 1988 535i and my 1987 325is. My current car, a 1990
>325i, only has the clock and external temp. readouts. If I buy an OBC
>from my local friendly salvage yard, can I just plug it into existing
>wiring in my car, or do I need a wiring harness and more goodies?
you *can* do it but you need a few parts.. here is what I've grabbed from the digest:
>OBC parts consist of display unit, harness, relay box (black plastic about
>1.5" x 4" x 6" mounted near ABS ECU), turn signal switch, and horn. The
>donor vehicle had most of the front end removed so I couldn't find the horn.
>This horn is supposed to sound for 30 seconds after three attempts to start
>the car without entering the correct code.
>I believe it is mounted on the drivers side below the
>bumper and inside the valance panel. The turn signal switch is needed if you
>want to retain the feature that allows you to cycle through the OBC displays
>by pressing the end of the turn signal switch. The relay box is essential. It
>disables the main relay or the fuel pump relay, depending on year and model,
>
>There are somethings to watch out for. You must have the correct coding
>plug for your model of car otherwise the mpg/range/speed functions will
>give you incorrect readings. Try and get an obc from the same model of car
>but if you can't don't worry, you can always fork out for the coding plug
>(sorry, don't know the cost here in US). The installation is a breeze.
>Just swap out the units and put in the new cable. If you don't want the
>code function or the stalk control then that's it!
>
>


>                     3 M M 3 3 3 3 3

>                     1 4 3 2 2 2 2 2
>                     8 2   5 5 5 5 5
>                             E E i i
>Item Description               S   X Symbol From  To    Part #
>------------------------------------------------------------------------------
>  1  Input unit          1 1 1 1 1 1        12/83       65 81 1 386 867
>  1  Input unit          1 1 1 1 1 1  CDN   12/83       65 81 1 386 868
>  2  Coding Plug           1 1 1            12/83 09/86 65 81 1 373 686
>  2  Coding Plug           1 1 1            09/86 09/87 65 81 1 381 795
>  2  Coding Plug                 1                09/87 65 81 1 381 793
>  2  Coding Plug             1   1 1        08/87       65 81 1 385 941    
>  2  Coding Plug         1                        09/87 65 81 1 381 792
>  2  Coding Plug         1                  09/87       65 81 1 380 891
>           NEXT ENTRY APPLIES ONLY TO ADDITIONAL FUEL TANK
>  2  Coding Plug           1 1 1                        65 81 1 381 320
>  3  Bulb                2 2 2 2 2 2                    62 11 1 368 299
>  4  Housing             1 1 1 1 1 1                    65 81 1 375 461
>  5  Cover               1 1 1 1 1 1                    65 81 1 374 938
>  6  Screw               4 4 4 4 4 4                    07 11 9 907 605
>  7  Relay               1 1 1 1 1 1                    65 81 1 373 726

Deleted 32 quoted line(s) ------
info thanks to Paul Marshall scotsman_at_msp.sc.ti.com and others on the digest
hope this helps
chris pawlowicz
'89 325i
Unofficial Homepages: [Home] [E12] [E24] [E28] [E30] [E34] [E36] [Z3] [E39] [E46] [X5/E53] [ALL] [ Help ]