Home
E12
E24
E28
E30
E34
E36
Z3
E39
E46
X5/E53
ALL
Ron Stygar
Carl Buckland
Dale Beuning
Forums
Help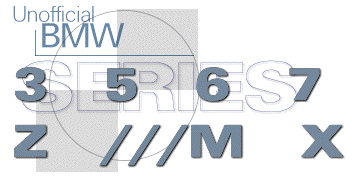 ---
Date: Fri, 16 Feb 2001 16:32:30 -0500
From: Skip Bogard <Skip.Bogard_at_ALUMni.DUKE.edu>
Subject: Re: [E36M3] Squeaking Steering

> My steering wheel has developed a faint squeak, audible when turned to the > left about 40 degrees. ......................... Anyone know of a way to > lubricate this or otherwise make it stop?
Steering wheel ring lubrication under "Groupe 32" of the BMW Fluids & Lubricants microfiche specifies that you use 3M part no. 8945. I have a can...it is basically a thick copper-oil-graphite conductive oily paste. And a dash of zinc-oxide. Mix well.
I've opened cans of other manufacturer's Anti-Seize (like CRC's & Permatex) and they visibly look the same...like a bunch of micro-fine ground copper in a bay of sardine oil. An 8 ounce can gets you a brush in the cap, whose bristles usually are not up to standing against the stiffness of copper paste.
But when I read MSDS's from 3M competitors, some have say aluminum in addition to copper, or calcium carbonate in lieu of zinc oxide (read this for more info: http://www.whitmores.com/TechInfoBulletins/TIB-1067.htm) Is this cheapening out? I don't think so. If you manufactured tens of thousands of E36's like BMW, you'd really care about little details like this. The zinc oxide dust is self-sacrificing and can protect electrical connections.
Who woulda thought the same thinking that went into zinc plating a gate hinge from your hardware store also went into the lube used in your M3 steering wheel?
However, one company called A.S.T. sells thirteen types of anti-seize, each with varying amounts of copper, nickel, aluminum, zinc, graphite, oil, moly...(or leaves some ingredient out) for good reasons: http://www.astinfo.com/compounds.htm
So you'll have to compare the Material Data Safety Sheets yourself to decide on another product if you don't want the BMW approved 3M product. p.s. any NAPA store has the 3M product...about $10 for a small can. BMW also lists a CRC product as approved, but I wrote CRC a while back and they tell me the part number on the BMW microfiche is not one of theirs. 3M Product details below.
Cheers,
WHAT BMW RECOMMENDS FOR THE STEERING WHEEL LUBRICATION
TRADE NAME: 3M(TM) Brake Lube/Anti-Seize Compound, P.N. 08945 ID NUMBER/U.P.C.: 60-9800-1747-3 00-51135-08945-3

MSDS ISSUED:         August 17, 1999
MSDS SUPERSEDED:     September 10, 1998
DOCUMENT:            11-6646-1

---
INGREDIENT C.A.S. NO. PERCENT

---
COPPER.................................. 7440-50-8 40.0 - 50.0 HYDROTREATED RESIDUAL OIL (PETROLEUM)... 64742-57-0 30.0 - 45.0

GRAPHITE................................   7782-42-5     5.0     - 15.0
BENTONITE...............................   1302-78-9     5.0     - 15.0
POLYISOBUTYLENE.........................   9003-27-4     1.0     - 10.0
ZINC OXIDE..............................   1314-13-2     1.0     - 5.0

Darling Christopher Maj AMC/CEXR wrote: >
> Date: Thu, 15 Feb 2001 13:03:50 -0600
> From: Darling Christopher Maj AMC/CEXR <chris.darling_at_scott.af.mil>
> Subject: Squeaking Steering
>
> My steering wheel has developed a faint squeak, audible when turned to the
> left about 40 degrees. Dealer diagnosed a bad "slip ring" requiring
> replacement. Big $$ to just cure a squeak. Anyone know of a way to
> lubricate this or otherwise make it stop?
>
> Or is the solution simply a couple more jabs of the stereo volume button?
> 95 M3, 84K miles.
> ---------------------------end
> Cod
> Major Chris Darling
> HQ AMC/CEXR
> DSN 779-0698, Comm (618) 229-0698
Unofficial Homepages: [Home] [E12] [E24] [E28] [E30] [E34] [E36] [Z3] [E39] [E46] [X5/E53] [ALL] [ Help ]