Home
E12
E24
E28
E30
E34
E36
Z3
E39
E46
X5/E53
ALL
Ron Stygar
Carl Buckland
Dale Beuning
Forums
Help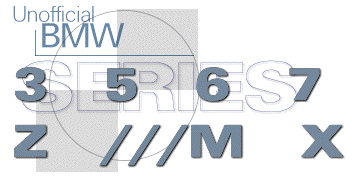 ---
From digest.v6.n561 Mon Apr 21 13:49:34 1997 From: "John H. Stein" <jhstein_at_mindspring.com> Date: Mon, 21 Apr 1997 09:29:26 -0400
Subject: Re:ZF4 reving
Status: RO
Don,
The following was most gratiously transmitted to me and I will re-post it here for all to learn. I am reposting w/permission because of the continuing interest and and discussion.
You needed TSB (Technical Service Bulletin) info so...
ATRATB900100 - Jan 1990 - Clutch -A- Burning/ZF4HP22 ATRATB056 - June 1991 - Clutch -A- Failure /ZF4HP22 ATRATB8843 - Sep 1988 - Clutch -A- Failure/ZF4HP22 ATRATBFF852 - Jan 1985 - High Pitched Whine Followed By No-Drive Condition
Those are all "after the fact" ATRA (Automatic Transmission Rebuilders Association)
TSBs.
2401913196 - June 1991 - Transmission Failure During Exhaust Emission Testing 2402903098 - Aug 1990 - New Primary Oil Pump Housing with 4HP22 or 4HP24
Those are actual, BMW TSBs.
Feel free to post this list to the digest if you think it's appropriate. Aamco should be able to print the ATRA TSBs, the BMW TSBs will have to come from either
the dealer or a shop in your area that uses the Alldata Information system.
Good Luck,
I hope this helps all find answers to those burning questions. (pun intended) John H. Stein
jhstein_at_mindspring.com
fax 770 514 8285
Unofficial Homepages: [Home] [E12] [E24] [E28] [E30] [E34] [E36] [Z3] [E39] [E46] [X5/E53] [ALL] [ Help ]