Google Search

Search (Google!!)
Search Amazon.com
Home
E12
E24
E28
E30
E34
E36
Z3
E39
E46
X5/E53
ALL
Ron Stygar
Carl Buckland
Dale Beuning
Forums
Help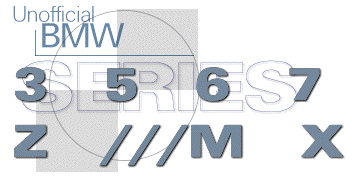 ---
From RonStygar_at_aol.com Sat Dec 12 19:52:21 1998
From: RonStygar_at_aol.com
Date: Sat, 12 Dec 1998 22:51:47 EST
To: dale_at_unofficialbmw.com
Subject: Lets make the clutch stop adjustable

---
---
Making the clutch stop adjustable lets you set it to a known reference, eliminating the free travel.
I got this tip from the Turner & Miles Winning Autocross Solo II Competition book years ago (1977). The following is how I made the clutch stop adjustable on my '96 328is and '97 318tis. This mod works on most BMW's. As I remember, I initially did this on my '86 325es. Based on the book date, I probably initially did this on my '79 320is:). Read the following completely before attempting this modification.
If after reading the following, you are not sure what we are doing here, don't do it. As always, feel free to do it your way.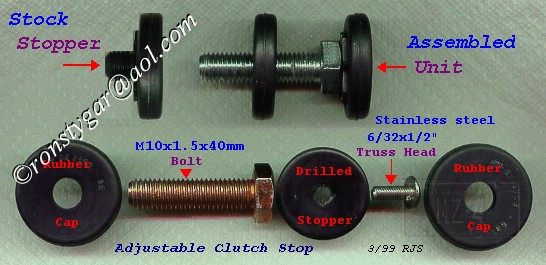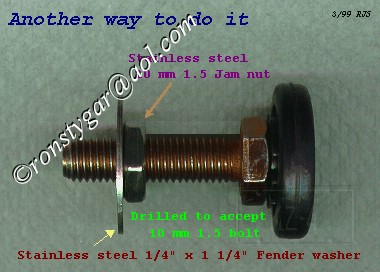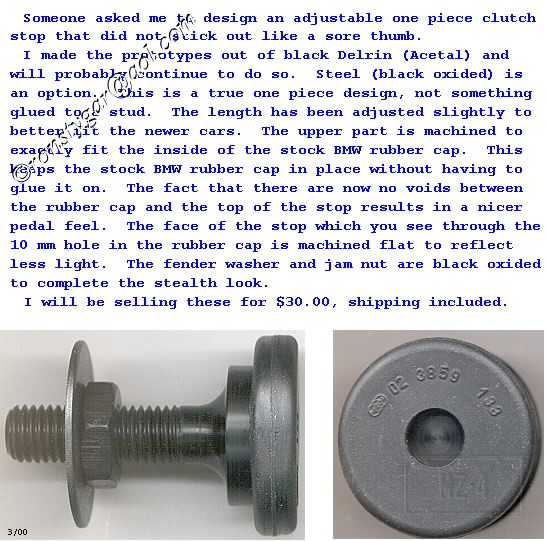 Pieces/Parts:

          Stopper 35 31 1 152 237 $0.42 retail
          Rubber cap 35 31 1 153 896 $0.55 retail
          Hex head bolt M10x1.5x40mm long
           NAPA 2801-132 $0.70
          Plug tap 6-32 NAPA T-104 $2.49
          Bottoming tap 6-32 NAPA T-237 $2.49
          6/32x1/2 inch truss head screw
        And
          10 mm 1.5 stainless steel jam nut $0.45
          1 1/4" by 1/4" stainless steel fender washer $0.50
        if you choose do to it as shown in the second photo.

The stopper you purchase, lets you go back to stock. The rubber cap goes over the M10 bolt where it meets the carpet (doesn't show), for a finished look. Unscrew the stock clutch stop. Its the ~1 1/4 inch rubber capped stopper assembly on the floor directly below the clutch arm. Remove the rubber cap from the stopper. Drill the plastic stopper in the center to accommodate the 6-32 truss head screw using the opening in the threaded part as a guide. Cut off the threaded part from the plastic stopper. Smooth the cut. Drill and tap the bolt center. Tap drill size is a #36. Use a #31 drill if you do not want to purchase a lot of replacement taps for the one's that you will break. You break a tap, and in many cases you have to purchase another bolt. Mount the stopper to the M10 bolt using the 6-32 truss head screw. Install the rubber cap over the stopper. Install the purchased rubber cap over the M10 bolt thread. Install the cap stopper bolt assembly back into the original floor position, turning it in all the way. Adjust to your preference. Do this with nothing in the front or back of your car, just in case, you didn't understand what we are doing here:). With a drill press you can easily make your own. If handy, you could also do it with a hand held drill. If you do not want to be bothered, send me $25.20 and I will priority mail you one of mine (USA).
Ron_at_unofficialbmw.com, FLI BMW, FLY BMW, Marlborough, CT
http://www.unofficialbmw.com/ronstygar.html
Unofficial RS/SS bender/shortener/installer +

Unofficial Homepages: [Home] [E12] [E24] [E28] [E30] [E34] [E36] [Z3] [E39] [E46] [X5/E53] [ALL] [ Help ]