Google Search

Search (Google!!)
Search Amazon.com
Home
E12
E24
E28
E30
E34
E36
Z3
E39
E46
X5/E53
ALL
Ron Stygar
Carl Buckland
Dale Beuning
Forums
Help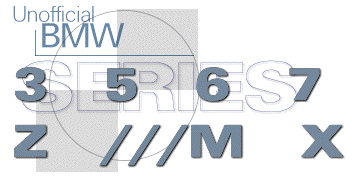 ---
From digest.v9.n1 Wed Jul 29 09:52:49 1998
From: "Taht, Georg I" <Georg.Taht_at_PSS.Boeing.com>
Date: Wed, 29 Jul 1998 09:23:37 -0700

>Subject: USA 1986 BMW 635CSi Tranny conversion from Electronic 4 speed Automatic to - 5 Speed Manual
Bill,
What you are proposing to do, I have just completed on my 1987 535is. The most difficult part about the conversion was getting the parts together. My wife and I called just about every advertiser (wrecking yard) in the Roundel to find a transmission. Finally found one at Bavarian Auto Recycling in California.
Here is what you will need:
5 - Speed transmission from 1986 and on. Getrag 260/6 (It is recognizable by the cooling fins on the bottom of the transmission. Earlier cars had Getrag 265's or 260/5 transmissions.
Driveshaft for your car. The automatic one is different. I bought a rebuilt one and have had no problems with vibration.
Pedal Assembly from a car that has a manual transmission
Clutch Hydraulic Parts. Master, Slave, tubing, flex hose (this part is about $50)
Throttle position switch
Shift assembly, including mounting, rod, shift lever, boot, etc.
Flywheel, pressure plate, clutch, throwout bearing
Exhaust hangar assembly that is supported from transmission
Various nuts and bolts for the driveshaft and transmission
Rubber disc (between transmission and driveshaft)
Transmission support cross member
This represents the major parts, the rest was little hardware pieces.
You will need to do some wiring:
The new throttle position switch need to wired to the Motronic unit. Wire in the back-up light switch
Install cruise control switch for clutch - The wiring harness connector was already installed in my car.
Jumper the relay for the starter lock-out. Note: I had a BMW ETM Wiring manual to help me out. (Very useful)
Cap off the cooling lines to the radiator for the automatic transmission fluid.
My total cost for the conversion was about $2400 (all parts were used except for the clutch hydraulic parts, clutch disc, pressure plate, throwout bearing, driveshaft, rubber disc)
Labor to do the job was about 80 man-hours
Purchase a BMW clutch alignment tool. It is worth the money!
The majority of the job is quite straight forward. I spent a lot of time getting little things configured.
Georg Taht
georg.i.taht_at_boeing.com
1987 535is
Unofficial Homepages: [Home] [E12] [E24] [E28] [E30] [E34] [E36] [Z3] [E39] [E46] [X5/E53] [ALL] [ Help ]