Google Search

Search (Google!!)
Search Amazon.com
Home
E12
E24
E28
E30
E34
E36
Z3
E39
E46
X5/E53
ALL
Ron Stygar
Carl Buckland
Dale Beuning
Forums
Help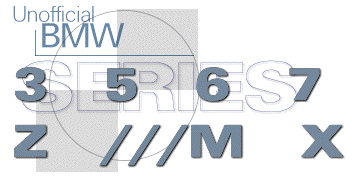 ---
Date: Wed, 06 Jan 1999 06:39:54 GMT
From: barrettn_at_flex.net (Barrett Nicholas)
Subject: [E36M3] re: wheel weight adhesive removal

Karen: What you want is Oil Flow Safety Solvent
"A neutral pH, solvent based, water soluble liquid solvent. Colorless, non-foaming and rinses clean with water leaving no residue. May be effectively diluted. Removes grease, tar, oils, adhesives, tree sap, rubber marks, exhaust and many other stains considered difficult. Do not use on polycarbonate or polystyrene. The only product that will easily remove wheel weight adhesive without harming the wheel finish. Great for removing oil stains from concrete floors."
16 oz. pump spray $10.80
You can buy it through Larry Reynolds of Car Care Specialties, king of detailing and car cleaning supplies.
hth,
Barrett N.
Houston, Texas
>Date: Tue, 05 Jan 1999 09:19:02 PST
>From: "karen yang" <karen_y_at_hotmail.com>
>Subject: Re: [E36M3] Sticker removing
>
>Related question:
>
>When I had my tires changed recently (went from the stock Pilots to the=20
>S-02 PP's), I asked the shop to move the balancing weights from the=20
>outside of the wheel to the inside. So, ok, they DID, but they also=20
>left tons of sticky crud on the wheel. I've tried Simple Green,=20
>GooGone, and fingernails, and nothing works. Any other ideas?
>
>TIA,
>
>Karen
Unofficial Homepages: [Home] [E12] [E24] [E28] [E30] [E34] [E36] [Z3] [E39] [E46] [X5/E53] [ALL] [ Help ]