Home
E12
E24
E28
E30
E34
E36
Z3
E39
E46
X5/E53
ALL
Ron Stygar
Carl Buckland
Dale Beuning
Forums
Help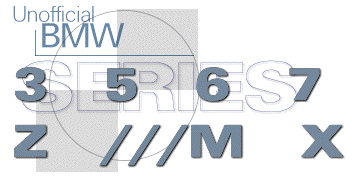 ---
Date: Fri, 16 Jun 2000 10:10:28 +0100
From: "Hunter Johnson" <HJOHNSON_at_dbmail.debis.de>
Subject: Re: 1998 M3/4 Post Mortem

In the typical spirit of answering questions no-one is asking, the dust has pretty much settled on the sale of the M3/4 last weekend. For those of you who care about such things, here is what this beast cost me. If you don't care, please don't flame me...just page down.
I bought a 1998 M3/4 in Feb '98 and paid $855 above dealer cost, with the help of the BMW CCA M3/4 customer cash rebate offered at the time. In July 1999 I was transferred to Germany, and since I was offered company cars, the BMW stayed home, being driven by my 60 year old mother-in-law. During this time she paid me a stipend to partially offset the monthly payment and insurance.
I leased the car from BMW Financial Services for 36 months. When I bought the car, I was the controller of Chrysler Financial's lease group, so I was keenly aware of the drawbacks of leasing. Still, I leased because I was concerned how the vehicle might hold up given an intention of autocrossing, etc., and BMW had a competitive interest rate.
I bought the car after attending some driving schools in a E36 325i; I quickly decided (which is of course against what everyone, including myself, suggests) that I needed "better equipment". Modifying the 325i would have cost several thousands of dollars and which would have had minimal residual value, and the 325i still wouldn't have the power of the M3.
When the car was sold it had 29,xxx miles on it. I decided to sell it since (1) I didn't think I'd move back to the U.S. before late 2001, (2) I was concerned about the market values of these cars given the new 330i coming to market, plus the much lower than expected cost of the E46 M3, (3) by selling now I could avoid some cost from terminating the lease and perhaps make a bit of money (with respect to my payoff), and (4) if I got back to the States a few years from now I could always buy a 4 or 5 year old M3/4 for much less than I'd sell mine for now.
Here's the cost and cost per mile of this car:

Depreciation        $8,420     29.0 cents per mile
Interest             6,448     22.2
Insurance            4,050     14.0
Taxes                1,295      4.5
Fuel                 1,040      3.6
Maintenance          1,010      3.5
Stipend             (2,200)    (7.6)
Total              $20,063     69.2

The fuel assumes 20 mpg and $1.30 a gallon, and only through 16,000 miles; thereafter, my in-laws paid for gas. Maintenance includes 5 oil changes (Mobil 1) between warranted scheduled maintenance, and four new Pirelli P7000 Supersport tires mounted by the dealer. Taxes are Michigan sales tax plus Luxury Tax.
These do not include around $1,420 of aftermarket accessories on the car when sold (VDO gauges, ECE headlamps, X Brace, UUC Z3 shifter, etc.).
The BMW lease had a residual value of 65% (36 month low milage = 12,000 miles a year)of the MSRP ($44,915) with a 7.15% APR. This compares to the normal loan from my credit union which was offering 7.00% interest for 60 month loans. The BMW lease added a $680 acquisition fee and a $350 fee at lease end if you early terminated or returned the vehicle to BMW (if you bought the car at lease-end, this fee did not apply).
At delivery, the lease required $633 more at signing than the loan, but the monthly payment was $300 less. At the sale, had I borrowed for the car I would have received $9,902 in cash more than with the lease, since the loan would have been paid down to a much lower payoff figure.
Discounting the cash flows at 10% (what I use for long-term investments) gives the result that the lease cost $287 more than the loan. If the differences in cash flow were invested at 12.96%, the loan and lease would cost the same. If you only invested your money at 6% (risk-free rate) then the lease cost $717 more.
Before I give you my conclusions, let me say that the E36 M3/4 was my first new car since my 1983 Volkswagen GTI, and it was pretty much as fun to drive. But overall, the delivery quality of the car was average for the industry (I had four "conditions" on the car when delivered, two concerning the paint finish), and I find that the quality of the E36 cars is somewhat worse than the E30s (I had a 86 325es and a 87 325is, and a 93 325i).
Here are the conclusions:
Having bought several used cars over the past 10 years, I typically apply the formula of 80% value rentention for year one and 85% for year 2, etc. using the MSRP as a base figure, and assuming 15,000 miles per year. Using this formula my M3/4 should have had depreciation of $14,372. With Porsches, I use 85% for year 1 and 90% thereafter, so the M3/4, if it were a Porsche, would have deprecation of $10,555. So overall, the depreciation on the M3/4 was better than I expected. (The BMW lease expected $15,720 of depreciation from MSRP after 3 years, but ALG, the industry standard residual value gurus said the car'd have depreciation of closer to $17,000 -- BMW "bumped" the residual to help sell these cars).
In general, however, buying new cars is expensive. The cost per mile of nearly 70 cents and driving 1,250 miles a month means a monthly cost of $865. Ouch. For the $14,868 I spent on depreciation and interest, I could have bought some fairly nice used iron and owned it outright...an E30 M3 comes quickly to mind. I think I've bought my last new car.
If you must buy new, don't lease. Even though you have to pay sales tax up front on the whole car when you buy (with a lease you pay on the total lease payment, including interest, but only as long as the monthly payments go), the front and back-end fees the lease companies charge make leasing too unattractive. Plus, you have the potential turn-in hassle of arguing over what constitutes "normal" wear and tear. Buying a lease is essentially a balloon financing contract plus a put option on the underlying asset -- the car. This option costs money, but it is extremely difficult to value this option. So the lessor charges you an arm and a leg for this option. Unless you really think you might use the option (like you'll drive the car on the track and have VANOS problems), most likely you're paying for something you won't use.
Leases also lock you into the financing contract a bit more. They charge you an Early Termination fee. Also, lessors typically will NOT allow you to sublet the vehicle. BMW Financial says that you can sublet it, but the original
lessee retains the default risk -- if the new owner assuming your lease fails to make a payment, BMW Financial looks to YOU. Now YOU have to repo the car, etc.
If you have any questions, drop me a line.
Hunter
Unofficial Homepages: [Home] [E12] [E24] [E28] [E30] [E34] [E36] [Z3] [E39] [E46] [X5/E53] [ALL] [ Help ]