Date: Thu, 20 Feb 1997 00:41:05 -0500 (EST)
From: RonStygar_at_aol.com
To: BMW-digest_at_mailgate.wizvax.net, 318ti-compact-list_at_lists.geejeffery.com
Subject: E30, E36 Radio Removal Tool Part #


The part # and price for the five sided radio removal tool is shown in the following picture. A standard 2.5 mm hex key is used on the E38 and E39 radios.
---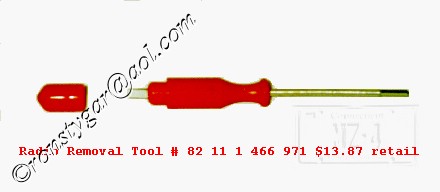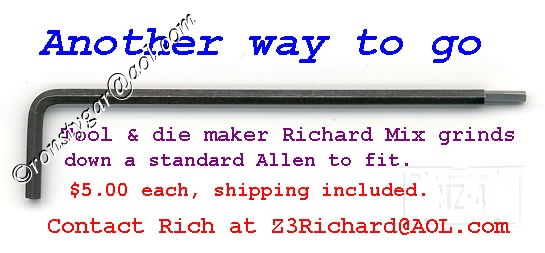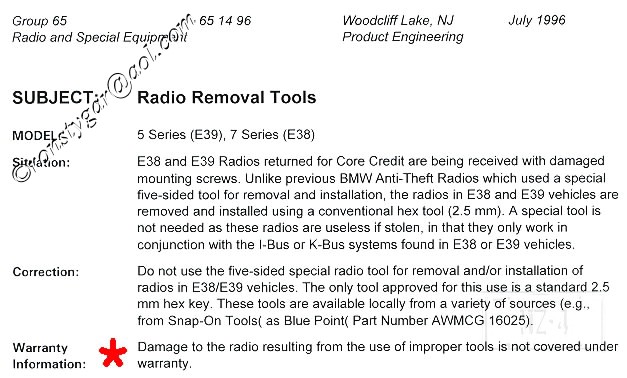 The BMW business CD head unit that came in my '00 M Coupe also uses the standard 2.5 mm hex key. They are really confusing things now. Maybe the new cassette radios use the 2.5 mm hex key too. Haven't been there yet. Let me know if you find this to be true so that we can update this article.
Ron_at_unofficialbmw.com, FLI BMW, FLY BMW, Marlborough, CT
http://www.unofficialbmw.com/ronstygar.html
Unofficial RS/SS bender/installer +
Unofficial Homepages: [Home] [E12] [E24] [E28] [E30] [E34] [E36] [Z3] [E39] [E46] [X5/E53] [ALL] [ Help ]