robert1700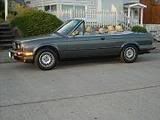 Joined: 04 Jul 2004
Posts: 1398
Location: Seattle
Posted: Tue Nov 01, 2011 1:55 pm

Post subject: Cheap 1994 540i for Sale E34

---

1994 BMW 540i
Vin WBAHE6319RGF27101
Miles:156,000
Clear WA Title
Sold at BMW East Bay in 1995. Moved to Washington at 800 miles and then sold at BMW Seattle. Been here since.
Low price selling to get better MPG, purchased a Camry

Green with tan leather
Leather Door Panels
Wood Trim

Options:
282 Hp V8
5 Speed Automatic with Sport and Winter Modes
Glove Box Flashlight
Trunk Tools
Heated Seats
ASC
Driver Memory Seat
Limited Slip with ASC+T

Condition:
Ok, now your first question, has the engine been replaced? Yes in August 1997 at BMW Bellevue. This has the replaced motor. Any BMW dealer will show this record under warranty claims. Engine needs motor mounts, no CEL light. Also I have not seen a oil leak.
Cooling system, Aux fan, water pump, some of the hoses and expansion tank have been replaced recently
Brakes, solid pad and rotor life
Tires are shot
Transmission shift really good. This has been replaced
Driveline has a weird squeaky sound, dont know why. Never heard that in any BMW I have owned, I have owned 32 BMWs.
LSD Diff not leaking
Suspension needs replacement Upper and lower control arms are shot as well as the rear pit arms. Both front and rear end links have been replaced.
Replaced Rear Shocks
New Cat and Muffler with O2 sensors
Steering: Idler arm needs replacement.
Interior sucks. Both Driver and Passenger seat are shot and have broken tracks. On the other hand the roof and door panels are not peeling.
Memory Seats, Mirrors and Steering Wheel
Interior is very clean
Dash is good
Radio-has premium sound but scratchy at high volumes. I have it pre-wired for a aftermarket installation.
Complete Owners Manual
No spare but there is a rim and a tire
A/C works
Body, all vins match but there are scratches everywhere. Damage to front passenger fender.
Instrument panel is perfect, no missing pixels.
If you want a great E30 Swap.
_________________
1987 325i Convertible
51,000+ miles
Sold to a friend car is now destroyed, such a same.